Fernandez sets Marlins franchise rookie record
Fernandez sets Marlins franchise rookie record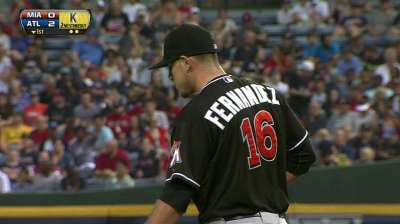 ATLANTA -- The record came in a bittersweet first inning on Friday night for Jose Fernandez, but the big picture puts the achievement in perspective.
With an 81-mph curveball, Fernandez struck out Chris Johnson swinging to establish a Marlins rookie strikeout record.
The K, his second in the inning, gave Fernandez 167 on the season, breaking Scott Olsen's previous mark of 166 set in 2006.
Fernandez turned in a solid performance on another frustrating night for the Marlins, who lost, 2-1, to the Braves at Turner Field.
In six innings, Fernandez allowed two runs on three hits, and he finished with eight strikeouts, giving him 173 on the season.
Like he's done with everything in his rookie season, Fernandez is taking his strikeout record in stride.
"I don't know what to say about that," he said. "I guess it's good. It's whatever, though. Hopefully, we'll get a win tomorrow and have fun."
Facing a tough Braves lineup at Turner Field, Fernandez wasted little time matching Olsen's record that stood for more than 6 1/2 seasons.
Fernandez struck out Jordan Schafer with an 82-mph curveball to lead off the first inning. From there, Miami's rookie ace encountered some trouble. He allowed a double to Elliot Johnson, followed by an elevated changeup that Freddie Freeman crushed for a two-run homer to center.
After falling behind by two quick runs, Fernandez quickly struck out Johnson.
Friday's loss was the first for Fernandez since July 7 at St. Louis. In August, the rookie has been dominant. For the month, he struck out 49 in 39 innings. It's the second-highest strikeout total for any month in Marlins history. In 2008, Ricky Nolasco fanned 51 in August.
One of the promising young pitchers in the game, Fernandez is making his mark on team history in a season he was initially expected to start off at Double-A Jacksonville. But due to shoulder injuries to Nathan Eovaldi and Henderson Alvarez at the end of Spring Training, Fernandez was a surprising choice to make Miami's Opening Day roster.
Five years after defecting from Cuba at age 15, Fernandez found himself in the big leagues two years after being Miami's first-round pick in 2011. He also made the leap without previously pitching higher than Class A.
"I started thinking about it," said Miami manager Mike Redmond, a former catcher. "I caught Francisco Liriano, Johan Santana, Dontrelle Willis, Josh Beckett, A.J. Burnett, Brad Penny. It's a pretty decent list of pitchers there."
Of all of them, Redmond notes Fernandez is the "most polished" as a rookie.
"Josh had a real good fastball and a decent changeup," Redmond said. "He didn't really locate his breaking ball. That was a work in progress.
"A.J. had a really good fastball and a big curveball, he struggled throwing it for strikes. A lot of those guys, it took them a few years to really perfect their pitching and how to pitch. Jose had a real good feel for pitching and how to pitch. His pitches are pretty polished."
Joe Frisaro is a reporter for MLB.com. He writes a blog, called The Fish Pond. Follow him on Twitter Share This