Dodgers turn page on Puig drama
Dodgers turn page on Puig drama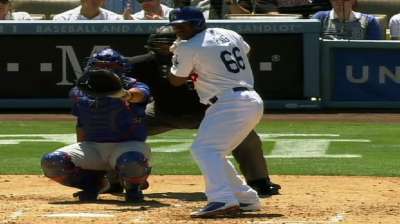 LOS ANGELES -- Dodgers manager Don Mattingly benched Yasiel Puig on Wednesday, but the rookie was back in the lineup on Friday and both Mattingly and general manager Ned Colletti seemed ready to move past the whole ordeal.
"We've talked about it and it's over," Mattingly said before Friday's game against the Padres. "It's not something that continues on. I think he understands where we're coming from. I like Yasiel. I think he's a great player. He's a good kid. I think he's going to help us win. I want him in there."
Puig was benched in the fifth inning of a 4-0 win over the Cubs at Dodger Stadium. After that game, the rookie outfielder said he wasn't prepared and Mattingly referred to effort when explaining why he replaced Puig with Skip Schumaker.
Colletti did not comment on Wednesday, but he shared his opinion on Friday.
"He was fine the other day," Colletti said of Puig.
While Puig's ability has never come into question, his approach to the game has been the subject of much debate since the Dodgers called him up on June 3. Colletti said Friday the Cuban has "made a lot of progress."
"He's a young guy coming from a different country, a different culture," Colletti said. "His maturation process and his educational process will continue to take place. We've got a good support staff around him. We're there every day for him."
Colletti pointed out Puig is just 22 years old, with a mere 76 games in the Majors and 63 games in the Minor Leagues under his belt.
"We're talking about somebody who, as of a little over a year ago, wasn't in professional baseball in this country, let alone Major League Baseball, let alone in a market like L.A.," Colletti said. "It's a process. We're happy to do everything we can to help him."
Asked if Puig's inexperience cost the Dodgers in the postseason, Colletti said, "I'm not worried about that. I ain't looking forward to nothing but today."
Ken Gurnick is a reporter for MLB.com. Austin Laymance is an associate reporter for MLB.com. This story was not subject to the approval of Major League Baseball or its clubs.