Now in Boston, Peavy reflects on time in Chicago
Now in Boston, Peavy reflects on time in Chicago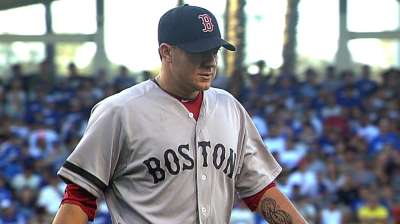 BOSTON -- Jake Peavy will be pitching for a first-place team Saturday night at Fenway Park in a game involving the White Sox.
If that scenario was presented to the right-hander before the 2013 season began, he would have guessed that this particular game was important to help the South Siders hold off Detroit or Cleveland in the American League Central. Instead, the White Sox are out of contention and Peavy is pitching for the top team in the AL East after being traded to Boston as part of a three-team deal on July 30.
Peavy is more than happy where he's at presently, but he's still left to think about what might have been for the White Sox if the team's miserable start had changed even just a little.
"We all, man for man, tried to own that. We just didn't play the way we were capable of playing," said Peavy, speaking to the media in his red Boston jersey. "Those first 30 or 40 games, we lost so many one-run games that very easily, we could have done a few small things that would have flipped 10 or 15 games in our direction. And that probably would have got us to a different start, and I can't see myself if that would have happened wearing this uniform.
"That's awfully unfortunate, but it is what it is. I'm happy to see those guys when they're not playing us playing well and the way we all knew they were capable of playing."
Even with the loss of "a bona fide ace" as Peavy was described Friday by John Danks, who starts against his friend Saturday, the White Sox have a solid young pitching core. It's that talented group of pitchers that presents hope for the White Sox avoiding a full rebuild, moving more in the reshaping direction under general manager Rick Hahn.
"John Danks is back to back to John Danks. Hector [Santiago] going tonight. [Andre] Rienzo has showed what he's capable of. You've got Chris Sale who is as good as anybody in the game at the top," Peavy said. "You've got some big arms in the back of the bullpen. You acquired some good position players, and obviously Paulie [Konerko] and Adam [Dunn] are getting older but [chairman Jerry Reinsdorf's] always got money. That team's going be right in the thick of things. I can't see a long rebuilding process there. That team is not far away."
Scott Merkin is a reporter for MLB.com. Read his blog, Merk's Works, and follow him on Twitter @scottmerkin. This story was not subject to the approval of Major League Baseball or its clubs.