Phegley knows the value of a power source
Phegley knows the value of a power source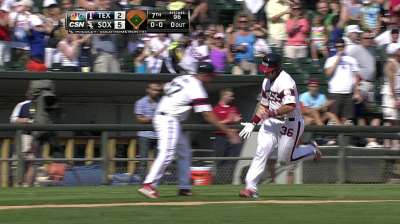 BOSTON -- After knocking out 15 homers and 18 doubles during his 231 at-bats for Triple-A Charlotte, Josh Phegley has followed with five doubles and four homers over 136 at-bats with the White Sox.
Phegley doesn't consider himself a power hitter as much as a hitter with extra-base power. But in his situation, Phegley knows the power source can be valuable.
"Being a catcher, it doesn't do anybody any good to have me on first base. It's going to take a couple of hits to score me anyways," said Phegley with a laugh. "I've always felt myself being a gap-to-gap doubles guy, and I've hit the ball on the line and with some authority. If it gets up in the air a little bit, it has the ability to carry out of the ballpark.
"My job is to hit the ball hard in the gaps from left-center to right- center. I don't want to get too pull happy and just stay the middle of the field."
At this early stage of his career, with a starting role potentially ahead of him in 2014, Phegley isn't really trying to figure out what sort of hitter he is as much as just improving his craft.
"You just work on your swing and what you need to do, and it kind of shows itself to you," Phegley said. "If you got a lot of juice, they want you to hit the ball in the air. If you got speed, then you are going to try to put the ball in play on the ground.
"But I don't have much of either. So I'm just going to drive the ball in the gaps and keep it out of the air, but try to hit something to gaps and the outfield."
Scott Merkin is a reporter for MLB.com. Read his blog, Merk's Works, and follow him on Twitter @scottmerkin. This story was not subject to the approval of Major League Baseball or its clubs.