Ackley drives top prospect Walker to first career win
Ackley drives top prospect Walker to first career win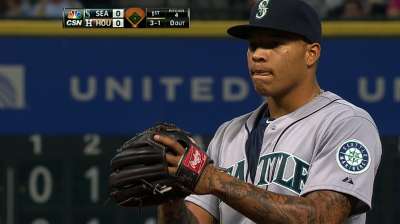 HOUSTON -- Hard-throwing right-hander Taijuan Walker pitched five innings of two-hit ball on Friday as the Mariners' premier pitching prospect won his Major League debut in a 7-1 victory over the Astros at Minute Maid Park.
Walker, who turned 21 earlier this month, kept the Astros off balance with a mid-90s fastball and some effective offspeed offerings, while allowing just an unearned run after being promoted from Triple-A Tacoma earlier in the day.
"It was a lot of fun," Walker said after surviving a celebratory postgame beer shower from his teammates. "I'm glad the first one is out of the way. The first hitter, I was really nervous. But after that I got more comfortable as the game went on."
Walker, rated the No. 4 overall prospect in baseball by MLB.com, only figures to get a few starts with Seattle before being shut down due to an innings limit this year, but the Mariners want him to get his feet wet heading into next Spring Training.
The first step certainly was impressive for the 6-foot-4 youngster from Yucaipa, Calif., who allowed just a misplayed double and a hard-hit infield single in the third inning of his 70-pitch debut.
"He's electric," said Astros right fielder L.J. Hoes. "A 98-mph fastball, a 92-93-mph cutter, it's tough. It says he's throwing 96, but it seems way harder than that because he's so big. When you've got somebody that big, with that stature, throwing that hard, you've got to battle him and hopefully get a couple of hits. Tonight, we were unsuccessful."
Walker was just the third Mariners pitcher ever to go five or more innings without allowing an earned run in his MLB debut, joining Pat Rice (5 2/3 innings in 1991) and Erik Hanson (7 innings in '88). At 21 years and 17 days, he's the youngest Mariner ever to win his first Major League start.
"He was under control out there," said manager Eric Wedge. "You could tell he was kind of feeling his way early on. He was more and more comfortable as the game wore on and let the ball go a few times. I thought he did a nice job with the secondary stuff, with the breaking ball, with some changeups. He was downhill with the fastball. He was very impressive out there tonight."
Center fielder Dustin Ackley was instrumental in the victory for Seattle, going 4-for-5 with a triple and four RBIs, and making an outstanding catch of a ball deep in right-center to rob Robbie Grossman of an extra-base hit in the fifth.
Ackley is now batting .411 (30-for-73) in August and .364 (40-for-110) since the All-Star break as he's hiked his season average from .205 to .261 with one month to go. His four hits were a career high and his four RBIs tied his career best.
The catch was equally impressive, given he only transitioned to center field from second base in midseason. Which was better?
"Man, the catch was pretty fun, I'll have to say that," Ackley said. "I haven't really had many plays like that, so that was pretty sweet. But you can't say that I didn't have fun having four hits. That was pretty fun, too. I don't know. It's all pretty good and pretty exciting."
Walker didn't get such help from his defense in the third inning, giving up the unearned run after two misplays. The first wasn't scored an error, but left fielder Raul Ibanez didn't get a good read on a line drive by Jonathan Villar that glanced off his glove and was ruled a two-out double.
Walker then induced a ground ball from Grossman, but normally sure-handed first baseman Justin Smoak dropped the throw from shortstop Brad Miller as Villar sped home for the only run of the night against the Mariners rookie.
The poise displayed that inning impressed Wedge as much as anything he saw from the young hurler.
"That was probably the only time I said something to him over the course of the evening coming off the field," Wedge said. "I really liked the way he handled himself. It didn't speed up on him and he kept his mind in the moment. The focus stayed with him."
Seattle scored twice in the fourth inning following walks to Kendrys Morales and Smoak, as Ackley singled in Morales with one out and Abraham Almonte made it 2-1 by beating out a fielder's-choice grounder to short as Smoak crossed the plate.
Almonte, also called up from Tacoma before the game, showed excellent speed in getting down the line to prevent the double play and was rewarded with his first Major League RBI. The 24-year-old right fielder added a run-scoring single in the eighth for his first big league hit.
"I felt a little bit nervous," Almonte said. "And then after I got a hit, everything goes away and I feel a little more free."
Almonte also received a postgame dousing from his teammates for his first big league hit, but his consisted of Coca-Cola and juice instead of beer after he told Felix Hernandez he was a Christian and didn't want alcohol.
"It was good," Almonte said. "We changed it up."
The Mariners changed things up as well with their new pitcher and new outfielder playing key roles. The win was their second in a row to open an eight-game road trip as they improved to 61-73, while Houston fell to 44-90.
Greg Johns is a reporter for MLB.com. Follow him on Twitter @GregJohnsMLB as well as his Mariners Musings blog. This story was not subject to the approval of Major League Baseball or its clubs.