Astros' early lead slips away as Peacock struggles
Astros' early lead slips away as Peacock struggles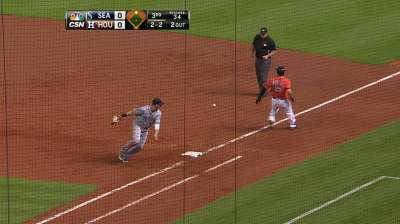 HOUSTON -- The 2013 season has featured a lot of opposing pitchers the Astros have never faced before, not so much because they switched to the American League last offseason, but because Houston's roster is filled with mostly rookies who are unfamiliar with just about everyone thrown at them.
On Friday at Minute Maid Park, however, it wouldn't have mattered if the Astros were the oldest team in the big leagues instead of the youngest and most inexperienced per service time. Their mound opponent, 21-year-old right-hander Taijuan Walker, was new to everyone -- a top prospect, making his Major League debut for the Mariners.
Walker handled the Astros with few issues through five innings, while the Mariners had a much easier time with Houston righty Brad Peacock. The end result was a 7-1 Seattle win, sending the Astros to their 90th loss of the season.
Walker retired eight consecutive batters to begin his outing and ended his five-inning, 70-pitch debut having allowed a paltry two hits and one unearned run. Three years after he was selected in the supplemental round (43rd overall) of the 2010 Draft, the 6-foot-4 right-hander lived up to billing.
"He's electric," outfielder L.J. Hoes said. "A 98-mile-an-hour fastball, a 92, 93 mile-an-hour cutter. It's tough. He had electric stuff and had his pitches working tonight, he kept us off balance. He's a big kid -- we saw that off the video -- and he's as big as he really is. Throws 96, but it's harder than that because he's so big."
In front of an announced crowd of 13,869, the Astros took advantage of shoddy Mariners defense in the third. Jonathan Villar doubled off the left-field wall and scored easily when first baseman Justin Smoak dropped a seemingly routine throw from shortstop Brad Miller.
But that's where it stopped for the Astros, and for a rookie Mariners pitcher who seemed unfazed by the defensive miscues behind him. Houston managed just one more baserunner off Walker when Brett Wallace drew a two-out walk in the fourth.
"[Pitching coach Carl Willis] came out and gave me a quick breather," Walker said. "Really right there, I just want to keep pounding the zone and keep making them put the ball in play. That's what I did and I got the outs."
Peacock, on the other hand, fought through a rising pitch count due mostly to the Mariners' three-run fifth. Any hopes to build on four previously strong outings were dashed when he walked two and yielded three hits in that frame, prompting manager Bo Porter to summon Philip Humber to record the final out.
"Just too many deep counts," Porter said of Peacock. "You look up and it's 100 pitches, 4 2/3 [innings]. When you give guys that many pitches, especially a group like this here that feasts on the fastball … he just didn't have his offspeed stuff working tonight. The changeup, the breaking ball; he forced himself into some fastball counts and they put some good swings on it."
This season has been more of a tryout than anything for the many starting pitchers the rebuilding Astros are attempting to evaluate as they begin to piece together a roster for next season. Peacock, who had little go right for him his first time in the rotation early this season, was eyeing a fifth good outing since returning in early August. Instead, he turned in his shortest outing over that span of time.
"I don't think I threw one changeup for a strike," Peacock said. "I need to do a better job of that. I felt good the first three innings and then I don't know what happened, to tell you the truth. I'll fix it. I'll be ready for next time."
The Astros' rotation features four rookies -- Peacock, Jarred Cosart, Brett Oberholtzer and Paul Clemens. Entering Friday's game, the foursome had a combined 2.13 ERA over 18 starts since July 12.
Peacock is in the midst of a second stint with the Astros this year. He made the club's Opening Day roster, but struggled through April, compiling a 9.41 ERA over six outings, five of which were starts. He was back and forth between the Astros and Triple-A -- spending most of this time with Oklahoma City in May, June and July -- but returned to the rotation in August with much better results. Before Friday's start, he had posted a 2.88 ERA with 25 strikeouts over four starts since rejoining the rotation Aug. 4.
With the 2013 season all but lost and the club eyeing next year, the players on today's Astros roster understand that every day is an audition for the future. No one knows that more than Peacock, who has, like several teammates, received more than one chance to prove he should be around next year, too.
"That's what the whole year, what everybody's doing," Peacock said. "We have a lot of young guys up here and we're all trying to make a name for ourselves and be ready for next year. There's plenty more starts left. There's a lot of work to be done and hopefully I can figure this out."
Alyson Footer is a national correspondent for MLB.com. Follow her on Twitter @alysonfooter. This story was not subject to the approval of Major League Baseball or its clubs.