Dodgers sign free agent Volquez
Dodgers sign free agent Volquez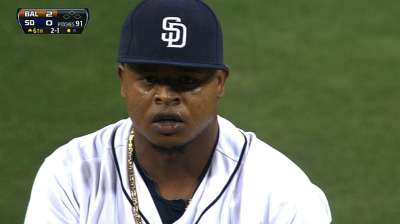 LOS ANGELES -- The Dodgers announced the signing of free-agent pitcher Edinson Volquez on Friday to a contract for the rest of the season, providing an additional candidate for the club's plan to use a sixth starter in September.
The 30-year-old right-hander, released this week by San Diego, was 9-10 with a 6.01 ERA in 27 starts. His best season was with Cincinnati in 2008, when he went 17-6 with a 3.21 ERA and was a National League All-Star. He came to the Padres in the 2011 Mat Latos deal.
Volquez was available out of the bullpen in Friday's game, and manager Don Mattingly said he would like to get Volquez on the mound in a low-leverage situation. Still, Volquez took batting practice with the Dodgers' starting pitchers and is likely to assume a starting role soon.
"He's an accomplished guy, so we'll see," said Dodgers general manager Ned Colletti. "He will probably get some starts in."
The Dodgers had planned on using Stephen Fife as a sixth starter in September to provide an extra day of rest for their rotation, but Fife struggled in his most recent outings with Triple-A Albuquerque.
Volquez said he was looking forward to working with pitching coach Rick Honeycutt, who has already helped reliever Carlos Marmol improve since coming over from the Cubs in July.
"From what I hear, he's an outstanding pitching coach and he knows what he's doing," Volquez said. "Hopefully we can get on the same page and fix me and make me better."
The Dodgers' pitching staff entered Friday's game with a 2.11 ERA in August, the lowest in the Major Leagues.
"I used to hate it when I was pitching against them," Volquez said of the Dodgers. "They've been good the whole year. I want to be part of this rotation."
Volquez originally signed out of the Dominican Republic with Texas. He struggled through the Minor Leagues before being dealt to the Reds as part of the 2007 Josh Hamilton trade. He had Tommy John elbow surgery in 2009 and was suspended 50 games in 2010 for use of performance-enhancing drugs.
In a written apology at the time, Volquez explained that his positive test was the result of medication prescribed when he and his wife were trying to start a family.
"I want to assure everyone that this was an isolated incident involving my genuine effort to treat a common medical issue," he wrote. "I was not trying in any way to gain an advantage in my baseball career."
Volquez was the Reds' Opening Day starter in 2011 and San Diego's Opening Day starter in '12 against the Dodgers.
Ken Gurnick is a reporter for MLB.com. Austin Laymance is an associate reporter for MLB.com. This story was not subject to the approval of Major League Baseball or its clubs.