Puig's four hits, A-Gon's two homers lead LA
Puig's four hits, A-Gon's two homers lead LA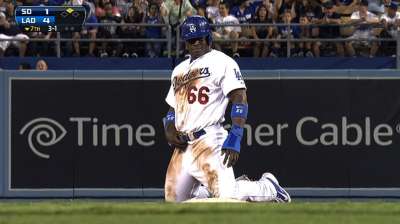 LOS ANGELES -- The dilemma facing Don Mattingly every time he needs to bench Yasiel Puig is that he might be putting four hits on the bench, too.
That was Puig's answer to Wednesday's disciplinary timeout when he returned to the lineup Friday night. With Adrian Gonzalez slugging a pair of two-run homers and A.J. Ellis adding a solo shot, the Dodgers pounded the Padres, 9-2, at a hot and humid Dodger Stadium.
Hyun-Jin Ryu pitched six solid innings before hitting the wall in the seventh, rebounding from a cold and back-to-back losing starts, and even doubling in the first run to improve his record to 13-5.
Gonzalez, a sinus infection gone after two days off, saw early batting practice Friday pay off with his 15th career multi-homer game, and he did it against his former team.
"They've got some star power," said Padres manager Bud Black. "They've got some names."
Ellis' blast to center completed back-to-back homers in a five-run seventh inning. Hanley Ramirez had two doubles and two RBIs. Edinson Volquez, the club's latest reclamation project, made his Dodgers debut against the team that released him earlier this week with a scoreless inning.
But it was hard for even Gonzalez to overshadow Puig, who showed no aftereffects from being yanked midway through Wednesday's game for unspecified bad behavior.
He doubled, singled three times, drove in a run, scored another and stole two bases. He fouled out in his last at-bat. In 77 games, he's had four hits in two of them and at least three hits 12 times. The Dodgers are 54-23 in games he's played.
"I was waiting to be asked about him," said Ramirez. "Everybody knows he's an unbelievable player. He's just a kid and he brought energy to the club."
So Mattingly has benched Puig twice in the last two weeks. He did it in Miami, when Puig was 0-for-11. Puig added to the news that day with a late arrival to the ballpark, getting fined, then responded with a game-winning home run after being inserted in a double-switch.
And now this, yanked two days ago by Mattingly, lectured by club officials and then grilled by the media, and he comes back with four hits. His flamboyance is exceeded only by his talent and ability to perform despite the drama, if not because of it.
"I just come to play baseball like I've always done," Puig said when asked if there was added incentive after the benching. "I always give 100 percent every game."
Asked if he lets his game speak for him, he said:
"Si."
Mattingly, whose discipline of Puig had the added benefit of calming a clubhouse that had tired of the rookie's actions, is tired of questions about Puig.
"Do we have to get back into this all the time?" he said. "He played the game the way we wanted. The other day is over. He was great tonight. He played with energy. He made a good decision on the bases on the ball in the hole. He got a couple of good jumps on the stolen bases. He was patient over there."
The win restored the Dodgers' National League West lead to 10 1/2 games, matching the season high. That's a jaw-dropping turnaround from the 9 1/2 games the Dodgers were out of first place the last time they faced the Padres in June. The Dodgers also have a 22-win month, setting a Los Angeles Dodgers record for one month and only three shy of the franchise record set in Brooklyn in 1957 and 1953.
Gonzalez talked more about Ryu's hitting than his own.
"He's a great hitter," said Gonzalez. "He did a lot to help himself and get us going. He has the classic Asian swing. He steps in the bucket, but keeps his hands inside and through the ball. I've tried to imitate that swing, the Ichiro swing."
Nobody will try to imitate the late landing on his slide as he scored on Puig's single that followed.
"My initial thought was I just have to stay alive, I have to be safe no matter what," Ryu said. "After I was safe I thought that I should practice how to slide."
As long as he keeps pitching like this. He went 6 1/3 innings and raised his home record to 7-2 with a 2.07 ERA. After allowing the Red Sox four first-inning runs in his last start, Mattingly said Ryu came out Friday with a purpose, and Ryu agreed.
"I didn't change anything in my mechanics, but I was convinced I wasn't going to give up any runs in the first inning," he said. "I went out there and was a little more focused and that's why my velocity was a little higher."
Mattingly had Ramirez bat third ahead of Gonzalez against former Dodger Eric Stults, and it worked well in the third inning, when Ramirez led off with a double and Gonzalez homered to the opposite field, the way he did often when he played for the Padres. He leads the club with 19 homers and 85 RBIs.
Ken Gurnick is a reporter for MLB.com. This story was not subject to the approval of Major League Baseball or its clubs.