Zimm's quality start not enough in loss to Mets
Zimm's quality start not enough in loss to Mets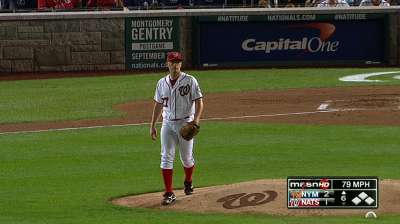 WASHINGTON -- Right-hander Jordan Zimmermann was solid for 7 2/3 innings, but the Mets defeated the Nationals, 3-2, at Nationals Park on Friday night.
On the bright side, the Nationals are still 6 1/2 games behind the Reds for the second and final National League Wild Card spot. The Reds lost to the Rockies, 9-6, in Colorado.
It was a game in which Nationals manager Davey Johnson wasn't around to see most of it. He left in the fourth inning because he felt light-headed. Bench coach Randy Knorr took over the managerial duties.
"[Davey] is fine. I think he is coming down with something. He felt a little light-headed and he went back [in the clubhouse]," Knorr said. "I think he might be catching a cold or something. He was trying to work through it, but he felt light-headed, not feeling well, so he came upstairs and relaxed."
Zimmermann allowed three runs on six hits and struck out six batters. After a walk to lead off the game, he was able to retire the next nine hitters he faced, but then had problems in the fourth inning with the Nationals leading, 1-0.
Daniel Murphy led off and singled past the diving Ryan Zimmerman at third base. Two batters later, Ike Davis, a .204 hitter entering Friday's action, came to the plate, swung at the first pitch and hit a two-run homer over the left-center-field wall to give New York a one-run lead.
"That was the only mistake that I made all night -- a hanging changeup," Zimmermann said. "In the past, I had good success with curveballs and offspeed pitches to him, and I left it up. A two-run homer, but other than that, I thought I pitched great."
The Mets added to their lead in the eighth inning off Zimmermann. After Murphy doubled with two outs, Andrew Brown hit an infield field single that Zimmerman backhanded at third base, but his weak throw to first baseman Adam LaRoche allowed Murphy to score from second base.
It would have been best if Zimmerman held on to the ball to keep the runners at first and third, but he said he would have made the same play to first 100 percent of the time.
"If Rochey fielded it cleanly, the guy is out by 89 feet at home plate," Zimmerman said.
The Nationals continue to have problems with Mets right-hander Dillon Gee, who pitched 7 2/3 innings, allowing two runs on six hits while striking out three. Against the Nationals this season, Gee is 4-1 with a 2.16 ERA.
"I feel like I throw the same in the fact that I'm trying to throw a lot of strikes," Gee said. "But I try to change the way I attack each guy every time out. It's just been one of those streaks, I guess, I don't know. They're a great team, and luckily I've had good numbers against them."
Ian Desmond, who went hitless in four at-bats, gave Gee credit for silencing a Nationals team that scored a combined 15 runs in the recent three-game series against the Marlins.
"Gee has good stuff, but he is extremely smart on the mound," Desmond said. "[He is like Cardinals] catcher Yadier Molina. When you hit against him, you can't think along with him. So much of hitting is mental. You try to think along with the pitcher. It's not guessing, it's more anticipating, waiting for a ball in a certain zone. Gee mixes his stuff a lot. Tonight, when he is especially sharp like that, it makes it even tougher. He turned it up a notch when he got the lead."
The first run scored against Gee in the third inning, when Wilson Ramos swung at a 1-1 pitch and hit his ninth home run over the left-field wall.
Then things got interesting in the eighth inning. After Gee got two quick outs, Steve Lombardozzi, pinch-hitting for Fernando Abad, hit a home run over the right-field wall. After Denard Span and Zimmerman reached base on singles, Gee was taken out of the game in favor of left-hander Scott Rice, who couldn't throw a strike and was behind in the count against Bryce Harper.
Harper fouled off a 3-0 pitch before grounding out to Murphy at second base to end the threat. Knorr said he gave Harper the option to swing at the 3-0 pitch, but what bothered Knorr was that Harper didn't hustle down the line after he grounded out. Eventually, if it continues, the team will likely have to take Harper out of the game, according to Knorr.
"I guess I'll learn from it," Harper said.
"The thing about Bryce is that he gets frustrated," Knorr said. "I don't think he does it intentionally, but he has to start picking it up a little bit, because we have everybody else doing it. He gets frustrated at times, and it just comes out of him. It's something we've got to fix."
Desmond said Harper hustles down the line "almost 100 percent of the time."
"This one got pointed out because of a bobble [by Murphy]," Desmond said. "I mean, he's 20 years old and I think he's still dealing with some emotions of the game. It's hard to remember a lot of the time that he is 20. What most of us were doing at 20 wasn't this."
Bill Ladson is a reporter for MLB.com and writes an MLBlog, All Nats All the time. He also could be found on Twitter @WashingNats. This story was not subject to the approval of Major League Baseball or its clubs.