Gee grounds Nationals in opener for 10th victory
Gee grounds Nationals in opener for 10th victory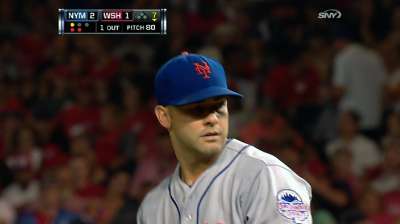 WASHINGTON -- Before the Mets opened their series at Nationals Park on Friday, New York manager Terry Collins called starter Dillon Gee "a huge savior" for his steady performance in a rotation beset by injuries.
The only Mets pitcher to stay healthy throughout the season, Gee also has been highly productive. The right-hander entered Friday with the National League's third-best ERA since May 30 (2.48), and he kept on going to help the Mets begin their nine-game road trip on a high note.
Gee tossed 7 2/3 strong innings, Scott Rice bailed him out of a big jam in the eighth and Ike Davis sparked the offense with a two-run homer in a 3-2 victory over the Nationals.
"Missing essentially half the year last year, my main goal coming into this year was make every start," said Gee, who has racked up 166 1/3 innings. "That was No. 1. Make every start and try to get to 200 innings. If I do that, and by the end of the year I can finish strong, I'll feel good about the year."
Gee (10-9) appeared well on his way to his first career nine-inning complete game but couldn't finish the job. Back on June 17 in Atlanta, he had entered the ninth inning with a shutout but gave up a walk-off two-run homer to Freddie Freeman with one out. This time, Gee ran into trouble in the eighth, but found a happier ending.
Carrying a 3-1 lead, Gee surrendered his second solo homer of the game, to pinch-hitter Steve Lombardozzi with two outs. Denard Span and Ryan Zimmerman followed with singles to put runners at first and second, and Collins turned to the left-handed Rice to face Bryce Harper, who was hitting .192 against lefties. Rice, a 31-year-old rookie, was holding lefties to a .171 average and has earned Collins' trust.
"He hasn't been fazed," Collins said. "When you wait 15 years to get here, you're not fazed by much. You're just going to grab every opportunity you can."
Rice threw Harper five sinkers at 92-93 mph. The first three missed. Harper fouled off the fourth, then bounced the fifth to second base, where Daniel Murphy bobbled it but recovered to make the play. Rice said he wasn't surprised at the 3-0 swing and wasn't too bothered by the bad count.
"You don't think about the counts as you just think about making quality pitches," he said. "My whole philosophy with my sinker is on 0-0, I'm thinking it's a 3-0 pitch anyways. I'm trying to get a lot of the plate and let it move and trust my stuff that it's going to go down."
LaTroy Hawkins pitched a 1-2-3 ninth for his sixth save.
Davis provided most of the offense against Washington starter Jordan Zimmermann (15-8). One out after Murphy led off the fourth with a single for the Mets' first hit, Zimmermann left a changeup up and out over the plate, and Davis launched it into the left-field bullpen.
It was Davis' ninth home run of the season but only his second to the opposite field. After homering once in his first 35 games upon his return from Triple-A Las Vegas, Davis now has gone deep three times in his past 12 contests.
"It's nice to see it leave the yard no matter where it goes," he said.
The Mets tacked on what turned out to be a crucial insurance run in the eighth. After Murphy smacked a two-out double, Andrew Brown bounced a ball down the third-base line. Zimmerman ranged to his right to field it, but his off-balance throw to first was way off target, allowing Brown to reach safely and Murphy to score. That chased Zimmermann, who allowed three runs on six hits.
"Once I thought Zimmerman was going to throw it to first, I feel like I could make the play," Murphy said, admitting that if Zimmerman had held on to the ball, he would have been caught dead.
"The last thing I saw when I hit third base was I saw him going to throw. From there, I'm just putting my head down and going."
It was enough support for Gee, who held Washington to two runs on six hits, walked one and struck out three, while picking up 14 ground-ball outs. He gave up Wilson Ramos' solo homer in the third but otherwise mowed down the Nationals into the eighth.
Gee certainly has earned the respect of the Nats, who had won 14 of 19 as they try to make a late run at the postseason. In five starts against Washington this season, he is 4-1 with a 2.16 ERA.
"He's got good stuff, but he's extremely smart on the mound," Nationals shortstop Ian Desmond said. "He's like a, there's not really a pitcher comparison I can give to him. Like [Cardinals catcher] Yadier Molina, when you hit against him, you can't think along with him. And so much of hitting is mental. Your mind, you're trying to think along with the pitcher and you're really trying to -- it's not guessing, it's more anticipating, looking for a ball in a certain zone. But he mixes his stuff up a lot, and tonight, when he's especially sharp like that, it makes him even tougher."
The only thing Gee didn't do well was keep track of the count.
With Desmond batting in the seventh, Gee threw ball one but thought he had gotten a strike. Two pitches later, he blew a high fastball past Desmond and turned away from home, thinking he had a strikeout and that the Mets would throw the ball around the infield. When he realized his mistake, he started moving his shoulder around in an effort to cover his error. Collins thought Gee had injured himself and ran out with the trainer to take a look.
"It fooled me, I can tell you that," Collins said. "It had me gasping for breath."
Gee was fine, but embarrassed. Still, on the next pitch, he struck out Desmond -- for real, this time.
"I felt like an idiot out there," he said. "I was trying to play it off and I played it off the wrong way and then they come out -- it was just a disaster."
Andrew Simon is a reporter for MLB.com. Follow him on Twitter @HitTheCutoff. This story was not subject to the approval of Major League Baseball or its clubs.