Gonzalez's rocky start keeps O's stagnant in standings
Gonzalez's rocky start keeps O's stagnant in standings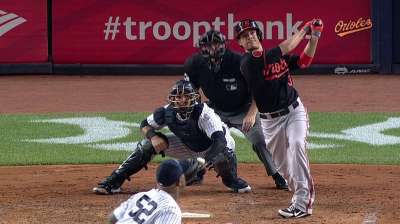 NEW YORK -- The Orioles, who had five off-days in August, had it lined up perfectly Friday night. Right-hander Miguel Gonzalez -- whose last two outings were relief appearances -- made his first start in 10 days, the beneficiary of both extra rest and pitching in a venue in which he was dominant.
And for the first 3 2/3 innings, Gonzalez -- who entered the game with a 2.20 ERA in five games at Yankee Stadium, including the playoffs -- delivered, retiring 10 of the first 11 he faced. But it all fell apart with a four-pitch walk to Robinson Cano and a two-run homer from Alfonso Soriano in the next at-bat. Gonzalez recorded just one out after that, surrendering seven earned runs and sinking Baltimore further behind in the playoff race with an 8-5 series-opening loss to the Yankees.
What happened?
"I don't know," Gonzalez said of the frustrating 64-pitch outing, which nearly matched his earned-run total from the five previous starts in the Bronx combined. "I can't even explain it. It was a tough one."
It only gets tougher from here for the third-place Orioles, who have dropped three of the first four games on a three-city road trip. The division loss costs the club, which entered the day 3 1/2 games back in the American League Wild Card hunt, the chance to make up any ground and puts fourth-place New York in its rearview mirror at a mere half-game back.
"People can say what they want," Orioles right fielder Nick Markakis said of the outside perception about his club, which is 7 1/2 games back of AL East-leading Boston. "I like our chances, I like the position we're in. We do well under pressure. We know what we're up against, we just got to keep fighting. We still have a lot of baseball left. Anything can happen in this game."
The Orioles proved that last year with one of the best storylines in baseball as the organization had its first winning season in 15 years and advanced to the AL Division Series fueled by a stellar second-half run. This year's club, which added right-handed bat Michael Morse in a trade with Seattle Friday afternoon, has dropped six of its last 11 series and is in desperate need of some kind of spark.
"We got a lot of baseball left," Markakis said of an Orioles club that will play almost exclusively against the AL East in the final month. "We got, what, 30 [29] games left? It's a tight division, a tight race. We're not out of it until they say we're out of it. So, we are going to take that mentality, put everything else behind us and move to the next day."
"We're a confident team. We believe in ourselves here," added designated hitter Danny Valencia, who hit a two-run homer off Yankee starter CC Sabathia. "I don't think we should be down at all, and the mindset here is that we just continue to play hard. I like our chances. If we do our thing and continue to play good baseball, we'll have a good chance at the end."
Gonzalez gave the Orioles a good chance at the beginning, but lost his fastball command and couldn't get back on track. After surrendering the lead with Soriano's blast, Gonzalez got Alex Rodriguez to pop up to end the inning, but wouldn't record another out as the Yankees piled on with a five-run fifth.
Following a pair of doubles, including an RBI two-bagger from former Oriole Mark Reynolds, Ichiro Suzuki connected for a two-run homer and Gonzalez exited after another pair of hits and a bases-loaded walk to Derek Jeter.
"He pretty much no-hit us until then," Reynolds said. "I think guys started seeing that, got the ball rolling a little bit, got some confidence and we were able to chase him out of there."
Lefty reliever T.J. McFarland replaced Gonzalez and got behind, 3-1, on Cano, who drove in another pair of runs with a single to up Gonzalez's line to seven runs in the 12-out outing. Gonzalez had allowed just seven earned runs combined in four career regular-season starts -- a 25 2/3-inning stretch -- in the Bronx coming in.
"The first three innings were about as good as you'd want to see," manager Buck Showalter said of Gonzalez. "Some things just don't make a whole lot of sense, but you don't dwell on them. We learn from them and that's why we go out there and what appears something on paper...same way with Sabathia. If you had taken a bet that both of those guys would be out of the game well before the seventh inning, you probably would have made some money tonight."
The Orioles got on the board first, with Chris Davis singling in Manny Machado -- who extended his own Major League lead with his 46th double -- for a fourth-inning score off Sabathia.
Valencia followed Soriano's bomb with his own two-run homer into the Orioles' bullpen -- also scoring Markakis -- to give Baltimore back the lead in a three-run fifth, with Machado chipping in with an RBI. But the offense, which chased Sabathia after five runs in 5 2/3 innings, wasn't enough to cover Gonzalez's rough night.
"This team is not going to give up," Gonzalez said. "This one was a tough one to swallow. I just got to keep my head up, keep working hard, and try to forget about this one as quick as possible so I can come out and help the team out and win some ballgames."
Brittany Ghiroli is a reporter for MLB.com. Read her blog, Britt's Bird Watch, and follow her on Twitter @britt_ghiroli. This story was not subject to the approval of Major League Baseball or its clubs.