Mariners promote Walker, Almonte from Triple-A
Mariners promote Walker, Almonte from Triple-A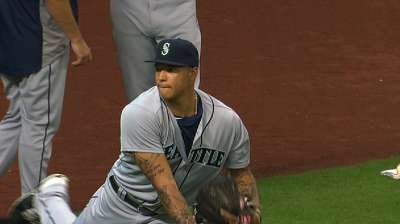 The Mariners added top pitching prospect Taijuan Walker to their roster as expected Friday, but also selected outfielder Abraham Almonte from Triple-A Tacoma and immediately inserted him in their starting lineup as well.
Both players played key roles in Friday's 7-1 win over the Astros. Walker, 21, picked up his first Major League win as he gave up just two hits and one unearned run in five innings.
Almonte, 24, went 1-for-5 with two RBIs while also displaying excellent speed and a strong throwing arm in right field. He was promoted after hitting .314 with 11 home runs, 50 RBIs and 20 stolen bases in 94 games with Tacoma. Almonte was acquired from the Yankees for reliever Shawn Kelley last spring.
"I wanted to get him in there against the right-hander [Brad Peacock] tonight," Wedge said before the game. "Let him keep going with the momentum of his day and let's see what happens. He's an exciting player, good speed, good arm, puts up competitive at-bats. He's still learning, but he's a physical player that can be exciting to watch. So let's see how he transitions up here."
Almonte was informed Thursday night in Tacoma that he would be joining the Mariners and flew to Houston on Friday morning.
"It was amazing," Almonte said of his sudden promotion. "It feels really good. But I just need to do what I do. I'm still the same person. I just need to be the same guy."
The Mariners already had one open roster spot created by outfielder Michael Morse's trade to the Orioles for Minor League outfielder Xavier Avery earlier in the day.
They opened a second spot by optioning right-handed starter Erasmo Ramirez to Tacoma in what essentially is a paper move, since he will be able to be recalled in time for his next start for the Mariners in Kansas City after the Rainiers' season ends on Monday.
Ramirez started Thursday's game against the Astros, improving to 5-1 with the victory.
Almonte was expected to be called up when rosters can be expanded in September, but Friday's move gives the Mariners an extra outfielder for the weekend and provides him a couple extra days in the Majors. The Dominican native started this season in Double-A Jackson, where he hit .255 with four homers, 18 RBIs and six stolen bases in 29 games. Almonte blossomed in Tacoma, hitting .333 with six doubles, two triples, five home runs and 18 RBIs in 28 games in August.
"He was our leadoff hitter and got things started pretty well," said rookie second baseman Nick Franklin, who played with Almonte earlier in the year in Tacoma. "He's fast, he's got life in his bat, works the count, fights. He likes to bunt. I just remember him being really fast. You'll see it tonight. He's probably going to run as fast as he's ever run. I remember my first callup; you run pretty fast. But he's pretty fast as it is."
Greg Johns is a reporter for MLB.com. Follow him on Twitter @GregJohnsMLB as well as his Mariners Musings blog. This story was not subject to the approval of Major League Baseball or its clubs.