Miller roughed up as Cards drop into Central tie
Miller roughed up as Cards drop into Central tie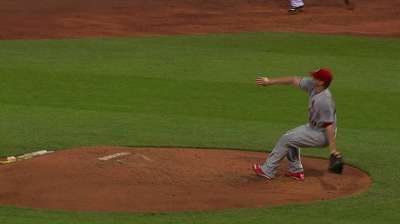 PITTSBURGH -- A series dubbed by the locals as the biggest yet in a 13-year-old stadium on the banks of the Allegheny River featured a lopsided start Friday night, leaving the Cardinals forced to welcome company atop the division standings.
The Pirates pounced all over rookie starter Shelby Miller en route to a 5-0 win that earns them a share of the top spot in the National League Central. His mistakes would not be mitigated by support, either, as the Cardinals tallied only four hits, held in check for a third time in 33 days by Francisco Liriano.
A sellout crowd of 38,026 packed into PNC Park, a venue that continues to be none too hospitable to the Cardinals. Since splitting a rain-shortened series in April, the Cardinals have won just one of six games in Pittsburgh. In total, the Pirates enjoy a 9-5 season advantage and sit only four wins away from securing their first winning season since '92.
But the Cardinals couldn't stall the Pirates' pursuit of 82 on Friday, nor could Miller carry over any momentum from one of his strongest outings this season.
"I think this team has all the confidence in the world," Miller said. "I know the last time we were here it didn't go well, and obviously, this didn't start out good. ... We just had a bad night tonight."
Miller labored through a 29-pitch first inning that set the tone for his 4 1/3-inning night. Consecutive hits kickstarted the Pirates' offense, after which Miller answered with strikeouts of Andrew McCutchen and Marlon Byrd.
He could not get past Garrett Jones, however, as the first baseman ignited his four-RBI night with a two-out, two-run double.
"He got a couple big strikeouts in the first, looked like he might work out of that but didn't," manager Mike Matheny said. "Those strikeouts were pretty big, but you really didn't see any after that. He just never had a real good feel for anything today on a consistent basis."
In his fourth-inning at-bat, Jones lifted a fastball over the Clemente Wall in right for a solo homer. On the next pitch, Russell Martin took a flat cutter and did the same. With a run-scoring single an inning later, Jones matched his RBI total for the month during a three-at-bat span. He entered the night with a .119 average this month and had been benched the previous two days after a 1-for-29 skid.
"It was a good mental break for a couple days," Jones said. "I was just excited to get back in there, for a big game, big series. Made some adjustments, took it into the game. I felt good, aggressive and strong, nice to be able to contribute to a win."
The support would be more than sufficient for Liriano, who remains an enigma to the Cardinals. He followed up a seven-inning, one-run performance against them in late July with a complete-game win in St. Louis in mid-August. On Friday, Lirianio needed his bullpen to cover only one inning as he became the NL's third 15-game winner.
Off the veteran lefty, the Cardinals mustered only two singles and two walks. They never did advance a runner into scoring position against Liriano, and each batter to reach did so with two out.
"He's having a Cy Young-type year," said Matt Carpenter, who went hitless from the leadoff spot. "This pitcher is as good as you're going to see in the league. When you're that good, you're going to get guys out. His stats show it's not just us. Obviously, we've had a rough stretch against him now three times. Obviously, we would like for it to go another way, but it's not like he's just beating us."
Liriano has allowed one or no earned runs in 14 of his 21 starts, including all three against the Cardinals. At least there is this bit of solace for the Cards to cling to: If the Pirates stick to a five-man rotation over the next week, Liriano will not line up to pitch during Pittsburgh's upcoming trip to St. Louis.
Liriano's trail of success against the Cardinals this season is in stark contrast to Miller's ongoing troubles against Pittsburgh. The Cards have lost all four of Millers' starts against the Pirates, who have tagged the righty for 13 earned runs and 29 hits -- including six home runs -- in 22 innings.
He's gotten no help either, as St. Louis has been shut out in three of those four games.
"I know that I've struggled with them this season," Miller said. "I haven't done a good job of keeping us in the game against this team the whole year. It's been tough. But we've faced good pitching from them as well."
For Miller, the start does stand out as an anomaly in an otherwise strong second half. He entered with a 3.13 ERA since the beginning of July and had not allowed more than three earned runs in any of those nine starts. On Friday, the Pirates tagged him for five. Miller gave up a season-high eight hits.
He was one of two pitchers to be nicked by line drives, too. Miller took one off the shin and reliever Sam Freeman was hit on the left shoulder. Both were able to keep pitching, and Freeman offered a "good to go" assessment afterward.
After not dropping consecutive games since Aug. 7-10, the Cardinals have been outscored, 15-0, over their last two. It is the first time this season that St. Louis has been shut out in back-to-back games. And of the 10 shutouts against the Cardinals, four have come at the hands of Pirates pitching.
"Obviously, this is a big [series]," Carpenter said. "We have to forget about this one and come out ready to go [Saturday] and find a way to win."
Jenifer Langosch is a reporter for MLB.com. Read her blog, By Gosh, It's Langosch, and follow her on Twitter @LangoschMLB. This story was not subject to the approval of Major League Baseball or its clubs.