Pirates tie Cardinals for first behind Liriano's gem
Pirates tie Cardinals for first behind Liriano's gem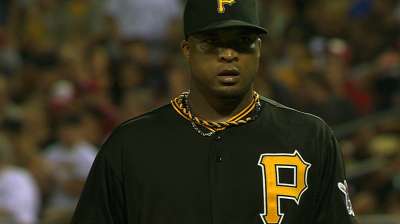 PITTSBURGH -- The St. Louis Cardinals have a recent history of furious stretch drives into the postseason. The Pittsburgh Pirates have a recent history of stench drives to collapse.
Those two forces clashed Friday night at PNC Park, and the Bucs collapsed all over the Redbirds.
With Garrett Jones' lively left bat supporting Francisco Liriano's even livelier left arm and a sellout crowd of 38,026 losing its collective head over all of it, the Pirates downed the Cardinals, 5-0, to tie them for the National League Central lead. Both teams are 78-56 with 28 games remaining, including two more in this series.
"Doesn't mean a thing," Liriano said, brushing off the big picture. "There's a lot of games left, and we have to continue playing every day. We'll see where we are at the end."
Liriano won his career-high 15th game by yet again following a Pittsburgh loss in dominant fashion, throwing eight shutout innings on a yield of two hits -- singles by Carlos Beltran in the third and by Matt Holliday in the sixth. He walked two and fanned six. On a slightly less significant, but nonetheless historic note, Liriano (15-6) maintained his perfect decision record -- becoming the first Pirates pitcher to do that 21 starts into a season since Nick Strincevich in 1946.
He has beaten the Cardinals for three of those wins, though "beating" is putting it too mildly. In 23 innings, he has given the league's most prolific, deepest offense 10 hits and two runs (0.78 ERA).
The performance smacks of … well, let St. Louis leadoff hitter Matt Carpenter take the floor.
"[This] was his 15th win and that's tied for the most in the National League. He's having a Cy Young-type year," Carpenter said. " This pitcher is as good as you're going to see in the league. It's tough to swallow, but at the same time, he's nasty when he's on. And he's been on every time we've faced him."
Liriano's last four wins have came after team defeats, and overall he improved to 8-2 with a stellar 1.26 ERA when taking the mound following a loss.
"We played great defense -- I think our best night for defense so far," Liriano said. "So I just go out without trying to do too much. Take it one pitch, one batter at a time. But tonight was not just about me."
He was correct. It was also about Jones, who returned from his brief "vacation" -- he'd missed a rare start against a right-hander Thursday to figure out a way to end a 1-for-29 slump -- to drive in four of the five runs, one of them on his 100th career homer.
"It was a good mental break for a couple of days. It was frustrating at first being told to sit, but winning is the most important thing and Gaby [Sanchez] was swinging a great bat," said Jones, whose three hits in five innings matched the total he'd had in 40 at-bats since Aug. 11. "I made some adjustments and took it into the game.
"I felt good, aggressive and strong. I was excited to get back in there. Big game. Big series. Nice to be able to contribute to a win."
Perhaps all Jones needed to get out of his rut was Shelby Miller. Three hits off St. Louis' starter made him 7-for-10 lifetime against the right-hander.
"You take Jones out of the equation," said Miller, perhaps wishing he could have done that. "Just making mistakes to him. He was seeing me well, I guess. Some of the pitches I threw to him were bad, but then I threw a perfect changeup to him that he hit over the shortstop. He had a good day. Tip your cap to him."
Jones ripped a two-run double in the first. After the Bucs loaded the bases -- around strikeouts of Andrew McCutchen and Marlon Byrd -- on Jose Tabata's leadoff single, Neil Walker's double and a first pitch that hit Pedro Alvarez, Jones lined a 2-1 pitch to right for a 2-0 lead.
Jones made it 3-0 in the fourth, yanking a ball down the right-field line for his 13th homer. Immediately after that, Russell Martin got into the act by launching his 12th homer to dead center. That was the third time the Bucs hit back-to-back homers this season.
The next inning, Jones reclaimed the spotlight, following Byrd's one-out double with an RBI single that left him a triple shy of the cycle.
The only thing Liriano does better than pitch after Pirates losses is pitch after his own, well, stinkers. He has had only two of them, not bad out of 21 starts. After the first (the 10-run misadventure in Colorado), he fired a complete-game four-hitter in St. Louis. Now after the second (nine hits and four runs in four innings Saturday in San Francisco), he even improved on that effort against the Cards.
"What's done is done," Liriano said of his ability to walk away with a clear mind from the bad nights. "There's nothing you can do about it. All you can do is move on."
Liriano is moving up the chain of the Majors' elite pitchers, all right. Everyone trips up now and then. The elite don't do it consecutively.
"He's a big-time competitor," Pirates manager Clint Hurdle said. "Those [bad] games ... they let you know there's work to be done. He's very determined right now. Anybody with his experience, when they get a little setback like those couple for him, you want to come back and get things right."
Tom Singer is a reporter for MLB.com and writes an MLBlog Change for a Nickel. He can also be found on Twitter @Tom_Singer. This story was not subject to the approval of Major League Baseball or its clubs.