Samardzija blows lead; Cubs lose in Sandberg's return
Samardzija blows lead; Cubs lose in Sandberg's return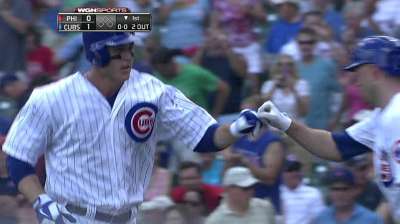 CHICAGO -- It was a perfect homecoming for Ryne Sandberg at Wrigley Field, which has been anything but friendly to the Cubs this season.
Back at the ballpark he called home for 15 seasons, Sandberg, now the Phillies' interim manager, celebrated a 6-5 win over the Cubs on Friday. Michael Young had four hits, including a tiebreaking single with two outs in the ninth, and Kevin Frandsen hit a game-tying home run in the seventh to lift the Phillies.
Last Friday in San Diego, the Cubs blew a six-run first inning lead in an 8-6 loss to the Padres. This time, they couldn't hold a 5-0 lead after five innings. Chicago now is 25-42 at Wrigley, and is one of five teams with more wins on the road than at home (the Mets, Rangers, Twins and Astros are the others).
"Twice in one week, to see this kind of game, and this one at home, with your big horse [Jeff Samardzija] on the mound, cruising along and all of a sudden he starts misfiring and gets the ball up [it's tough]," Cubs manager Dale Sveum said. "We can't get a big hit to walk them off or get the chance. Michael Young hits the outfield grass [with his game-winning single] -- we're having trouble doing that at home."
Sandberg, the Hall of Fame second baseman, received a nice ovation from the fans in his return to Wrigley. He took time to sign autographs, meet the media and say hello to old friends at the ballpark he called home from 1982-94 and again from 1996-97.
"It was good," Sandberg said of the reception. "I heard it. A little tip of the hat to the crowd for that. And once I got up there with the umpires, we chatted a little bit. I asked them if they wanted me to take them around the ground rules.
"It's a good one to have, it's a good win to get," he said.
Sandberg not only could offer advice on how to deal with the hitter-friendly wind or the tough infield at Wrigley, but may have had a few suggestions about dealing with Samardzija, who was once on his Triple-A Iowa roster. The right-hander was shut down last Sept. 8 in his first season as a starter because the Cubs wanted to watch his innings. This year, the kid gloves are off.
Friday was Samardzija's 28th start, tying his career high set last year, and it included his 500th career strikeout, which he notched when he struck out Young in the third.
"Any time you get the early runs, you can be aggressive and attack the zone," Samardzija said. "It allowed me to cruise through the middle innings. I obviously had the hiccup in the sixth."
The Phillies had Roy Halladay on the mound, the third of four Cy Young Award winners the Cubs will have faced in a five-game stretch. This was his second start since coming off the disabled list, and he lasted only five innings, allowing five runs on seven hits, two walks and two hit batters.
"Samardzija has been a completely different pitcher now than Halladay," Sveum said. "[Samardzija] is the Halladay of old, with the velocity and the cutters and split-fingers. Hopefully Samardzija keeps doing what he's doing and gets ahead in the count."
The Phillies knew they had to be patient.
"Samardzija was throwing the ball really well from the beginning of the game," Young said. "He had a full head of steam. He just had great stuff. Fortunately, we had a couple of balls fall and we were able to push a couple of runs across."
Anthony Rizzo launched a first-pitch changeup from Halladay in the first for his 21st home run, and Nate Schierholtz made it 2-0 with a leadoff home run in the fourth, his 20th. The Cubs now have two left-handed hitters with 20-plus home runs in the same season for the first time since Rick Monday and Billy Williams in 1973.
The Cubs weren't done in the fourth. Donnie Murphy lofted the ball to center, and Roger Bernadina lost it in the sun. Murphy ended up with a double, Brian Bogusevic then walked, and two outs later, both scored on Starlin Castro's double to open a 4-0 lead. Bogusevic hit a RBI single in the fifth but was thrown out at second trying to stretch the hit.
"Add-on runs, that's what you preach," Sveum said. "Don't think you've got enough, because the winning run will come to the plate someway or somehow. We just couldn't add on any more runs."
Frandsen tripled pinch-hitting for Halladay to open the Phillies' sixth and scored on Young's second single of the game. Jimmy Rollins then singled, and he and Young scored on Chase Utley's triple to pull within 5-3. Utley then came across on Domonic Brown's groundout.
"They just put the bat on the ball," Samardzija said. "They had a couple key hits and kept runners on base and kept the pressure on me, and I found too much of the plate [with my pitches]."
Frandsen stayed in the game at first base, and delivered when he he tied the game at 5 with a solo homer with two outs in the seventh.
The Cubs had runners at first and second and one out in the seventh, but Zach Miner struck out Murphy. Pinch-hitting for Bogusevic, Darnell McDonald singled to right, and Dioner Navarro, who was on second, tried to score, but was thrown out at home by right fielder John Mayberry, his second assist of the game.
"You think about pinch-running there, but at home, in the seventh inning, [Navarro] is coming up again, and unless it was to win a game, it's tough to [lift him]," Sveum said.
"I knew they were going to send me, there were two outs, tie game," Navarro said. "They told me he made a perfect throw to the plate. We couldn't catch a break today."
Carrie Muskat is a reporter for MLB.com. She writes a blog, Muskat Ramblings, and you can follow her on Twitter @CarrieMuskat. This story was not subject to the approval of Major League Baseball or its clubs.