Young makes Sandberg a winner in return to Wrigley
Young makes Sandberg a winner in return to Wrigley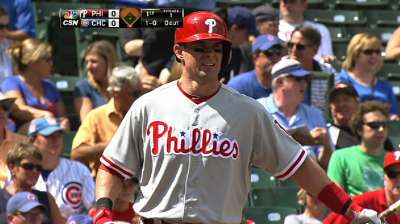 CHICAGO -- Roy Halladay wasn't sharp in his second start since returning from arthroscopic shoulder surgery, but Michael Young and the Phillies' offense came to the rescue on Friday afternoon.
The veteran right-hander gave up five runs on seven hits, two walks and two hit batters in five innings, but Young led the offense in a 6-5 comeback victory over the Cubs at Wrigley Field in the opener of a three-game series. The comeback gave interim Phillies manager Ryne Sandberg a win in his first game as a skipper at Wrigley Field after spending 15 of his 16-year Hall of Fame career in Chicago.
With the game tied in the ninth, Young blooped an RBI single to right field against Cubs reliever Kevin Gregg to score Roger Bernadina with the go-ahead run. It was Young's fourth hit of the game, tying a season-high.
"I definitely caught a break on that last one," Young said. "It wasn't necessarily the hardest-hit ball in the world, but fortunately it found a patch of grass out there. I've faced [Gregg] a lot over the years. He's got good stuff, and the only thing I was trying to do was keep my approach relatively simple."
Trailing 5-0 in the sixth, the Phillies rallied for four runs. Kevin Frandsen pinch-hit for Halladay and opened the inning with a line-drive triple to center that went off the glove of a sliding Junior Lake and rolled to the warning track, enabling Frandsen to reach third.
The hit snapped an 0-for-16 pinch-hitting slump for Frandsen.
"Any time you can come off the bench and be a spark, [which has been] tough to come by as of late … to have a good pinch-hit, anything to spark something," Frandsen said. "We needed something."
Young -- who is 7-for-12 against the Cubs this season -- followed with an RBI single to right. Following another single by Jimmy Rollins, Chase Utley hit a two-run triple to right-center to make it a 5-3 game. Utley scored on Domonic Brown's grounder to second to make it 5-4.
In the seventh, Frandsen struck again with a two-out homer to left to tie it.
"They just put the bat on the ball," said Cubs starter Jeff Samardzija, who held the Phillies to two hits through the first five innings. "They had a couple key hits and kept runners on base and kept the pressure on me, and I found too much of the plate [with my pitches]."
"The guys battled all the way through," said Sandberg. "It's been a characteristic of the guys at least the last two weeks. … There's a good energy on the bench that goes a long way."
Halladay struggled with his command. In the first, he hung a first-pitch changeup to Anthony Rizzo, who belted a solo homer to right field.
In the second, Halladay hit two consecutive batters with two outs, but escaped without yielding a run.
Halladay labored in the fourth, when he was roughed up for three runs. Nate Schierholtz led off with a solo home run, and Donnie Murphy followed with a sun-aided double on a ball that Bernadina couldn't see in center field.
Brian Bogusevic walked and moved to second one out later on a sacrifice bunt by Samardzija. Starlin Castro then drove a two-run double to the right-center-field gap to make it 4-0.
In the fifth, John Mayberry threw Bogusevic out trying to stretch his RBI single to a double, the first of the right fielder's two outfield assists -- the second was in the seventh, when he threw Dioner Navarro out at the plate after Darnell McDonald's single.
Halladay said that his shoulder felt good and that the biggest factor in his command issues was getting a grip on the baseball on a hot day in Chicago.
"The only factor I had was later in the game, just all this sweat that was kind of causing the ball to slip more than it was early on," said Halladay, who is 1-3 with a 5.40 ERA in five career starts at Wrigley Field.
"But I didn't get tired. I had more of an issue holding on to the ball later in the game. … Just dealing with the heat and dealing with the moisture was the biggest issue."
Sandberg said Halladay battled despite difficult conditions.
"[Halladay] struggled a little bit on command," Sandberg said. "It was a little warm out there but he battled. … He gave us some innings, and with our bullpen the way that it's been, we were able to keep the score in check and let the offense attempt to come back."
The Phillies' bullpen delivered four scoreless innings, as Zach Miner, Jake Diekman, B.J. Rosenberg, and Jonathan Papelbon shut down the Cubs. Rosenberg picked up his first win of the season and second of his career. He has made seven consecutive scoreless appearances.
Papelbon pitched a 1-2-3 ninth for his 23rd save.
The Phillies have won 12 of their last 16 against the Cubs, but this one was special for Sandberg, who received a standing ovation when he came out to exchange lineup cards before the game.
"It was good. I heard it," he said.
"A little tip of the hat to the crowd for that. And once I got up there with the umpires we chatted a little bit. I asked them if they wanted me to take them around the ground rules," he added, jokingly.
"I think we're all really happy for Ryno right now," Young said. "He had an incredible career playing for a storied franchise. … We're very happy [that] we could give him a win. It was a hard-fought win."
Sandberg acknowledged that this win was an extra-special one.
"It's a good one to have," he said. "It's a good win to get."
Manny Randhawa is an associate reporter for MLB.com. Follow him on Twitter at @MannyBal9. This story was not subject to the approval of Major League Baseball or its clubs.