Sandberg returns to Wrigley as Phils' interim manager
Sandberg returns to Wrigley as Phils' interim manager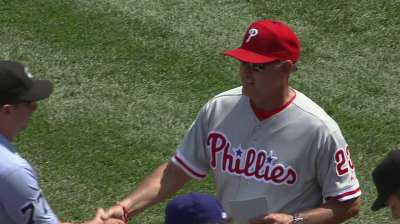 CHICAGO -- Ryne Sandberg entered the visiting clubhouse at Wrigley Field as a manager for the first time on Friday, and he said it was hard to find where to go. He had been to that side before as a rookie with the Phillies in 1981, but it's been awhile.
"[I was on this side] in 1981 as a September callup," Sandberg said before the Phillies made him a winner in his return, 6-5. "It's a little different view from this angle here looking out. I just needed to think of the right entrance to come in."
Sandberg said that while he wondered what it would be like to manage his first game at Wrigley Field, where he spent 15 seasons of his 16-year Hall of Fame career with the Cubs, it was still business as usual in terms of preparation.
"I was thinking about the lineup a little bit," Sandberg said about his thought process as he walked into the ballpark. "I pretty much had my managerial hat on … along with just kind of wondering what this would be like, not being in these shoes before, experiencing something like this."
Some of Sandberg's players noticed that he was excited for his Wrigley return.
"I think any baseball game is important for him," said third baseman Kevin Frandsen. "But just walking around and seeing his smile; this is where it happened for him.
"I'll be honest. I've been looking forward to this day since the beginning of the season. I think we'll truly get to see, in baseball terms, what true love is, from these fans here [for] what he meant to them."
"It means so much," Sandberg said of returning. "This was a place that was very comfortable for me as a player -- just watching and being a part of the transformation here with the fans and the people on the rooftops and the popularity of the club. It was a great place to be."
Manny Randhawa is an associate reporter for MLB.com. Follow him on Twitter at @MannyBal9. This story was not subject to the approval of Major League Baseball or its clubs.