Santiago's early wildness proves costly
Santiago's early wildness proves costly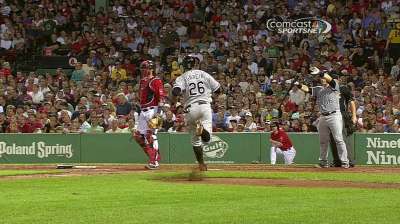 BOSTON -- By the time Hector Santiago got dressed, put on his watch and talked to the media following Friday night's 4-3 loss to the Red Sox at Fenway Park, the White Sox southpaw had forgotten about the free victory pass he handed to Boston.
"It's one of those nights. ... That's it. I forgot about it," Santiago said. "I'm over it and moving on to the next one."
Santiago (4-8) certainly wasn't the only reason for a six-game road winning streak coming to an end for the White Sox (56-77) in the opener of a 10-game excursion away from home. But he set an unwanted wild tone.
There were five walks over his 3 2/3 innings of work, not to mention 27 pitches thrown in the first inning and 30 thrown in the third. After walking Shane Victorino and Dustin Pedroia with one out in the first, Santiago managed to escape unscathed. He was unable to build off that early momentum, with White Sox manager Robin Ventura giving credit to the Red Sox (80-56).
"They chisel you and squeeze you until you have a high pitch count," said Ventura. "They're not in first place for nothing."
"I felt fine. It was just one of those days where you go out there and stink. You can't put anything else on it," said Santiago, who threw just 52 of his 101 pitches for strikes. "I just have to go after it and throw strikes. If you can't throw strikes, you are not going to succeed, that's for sure. It was a tough night."
A two-run single for David Ortiz punctuated a three-run fourth, ending the night for Santiago with Boston up by four. A four-run deficit for the White Sox would have spelled certain doom as recently as the end of July or even the first week of August.
However, this has been a different looking squad over the past 24 games.
As wild as Santiago was, he limited the damage to four runs. Retiring Jarrod Saltalamacchia on a popup to third baseman Jeff Keppinger with the bases loaded in the third, after Santiago walked Ortiz, hit Jonny Gomes with a pitch and walked Mike Napoli to force in a run, kept that total manageable.
Reliever David Purcey had his own wild streak, loading the bases in the sixth with an intentional walk to Pedroia and an unintentional walk to Ortiz. Purcey then came back to get Gomes by striking him out on a 3-2 fastball as the eighth pitch of the at-bat.
This escape act allowed the White Sox offense to attack Ryan Dempster and reliever Junichi Tazawa. Trailing, 4-1, in the seventh, Avisail Garcia opened the frame with a mammoth homer off Dempster landing just to the right of center in the Red Sox's bullpen. It was the second straight game Garcia had gone deep.
"The power has shown up lately," said Ventura of Garcia. "You like what you see."
Dayan Viciedo followed two outs later with a single off the Green Monster, ending Dempster's first start after being suspended five games for throwing at Alex Rodriguez. Alejandro De Aza ripped a triple to right off of Tazawa to trim the lead to one, but Gordon Beckham flew out to center to end the threat.
"They're going to keep battling. We had opportunities early but didn't do anything with it," Ventura said. "Kept scratching and clawing. Their team, they do a good job of grinding it out and wearing you down. If you don't throw it over the plate, they're willing to take their walks and make you pay for it."
Dempster (7-9) kept the White Sox hitless until Paul Konerko's leadoff double in the fifth. Dempster retired 11 in a row after walking De Aza and Beckham to open the game, but he came away without allowing a run when Alexei Ramirez swung at the next pitch and grounded into a double play.
"My body felt really good, and my arm felt really good," said Dempster, who struck out five over 6 1/3 innings. "I worked hard in the time I had off to be as ready as possible, and I got good results because of it."
Koji Uehara (15th save) recorded the final four outs to seal the victory, dropping the White Sox to 10-3 in their last 13 and 16-8 in their past 24.
Friday's abbreviated night of work for Santiago still pushed him over a single-season innings high at 133 2/3 frames, but he felt great and wouldn't blame the effort on arm fatigue. It was just one of those nights where, as Santiago said, he wasn't very good. It was one of those nights to forget about and focus on the next start at Yankee Stadium.
"There's always a next day in baseball. Just try to forget about tonight," Santiago said. "But that just can't happen, especially being a starting pitcher.
"Usually I have a tough [inning] and get three or four more and cruise through them. Tonight was just, I just kind of beat myself up about some of the pitches early in the game. I kind of was still thinking about them: 'I'm not going to get that pitch, so let's try to make pitches I will get.' I went against everything I'm used to doing. I fell behind and never got back into it."
Scott Merkin is a reporter for MLB.com. Read his blog, Merk's Works, and follow him on Twitter @scottmerkin. This story was not subject to the approval of Major League Baseball or its clubs.