Rest stop: Dempster returns with win
Rest stop: Dempster returns with win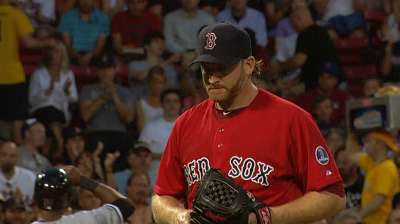 BOSTON -- Twelve days after his worst start of the season, when he plunked Alex Rodriguez and later earned a five-game suspension for his actions, Ryan Dempster showed up to Fenway Park on Friday night to professionally, and successfully, do his job.
Dempster didn't hit any batters, carried a no-hitter into the fifth inning and left in the seventh with a lead as the Red Sox beat the White Sox, 4-3. The Red Sox also extended their American League East lead to 3 1/2 games following the Rays' 4-3 loss to the A's in Oakland.
First, Dempster had to shake off some rust.
Walking the first two batters of the game rarely ends well, but the White Sox No. 3 hitter, Alexei Ramirez, is a notorious free-swinger, and Ramirez was beat on a low splitter that resulted in a double play. Dempster eventually settled in.
Manager John Farrell said he was impressed with the way the 36-year-old stayed sharp during the extended rest period.
"My body felt really good," Dempster said. "My arm felt really good. I worked hard in the time off I had to be as ready as possible, and I got good results because of it.
"When you're not playing and not injured, it's not a fun thing. I was glad I was able to get out there, pitch a little better and give us a chance to win the ballgame."
After getting out to a fast start in April, Dempster has struggled for much of the season, posting a 4.87 ERA or higher in three out of five months. His August ERA entering Friday was 7.40.
But after a brief hiatus, Dempster gave his team just enough.
"That's what veteran guys do," said White Sox manager Robin Ventura. "They continue to tease you at the plate and get you to swing at a pitch you don't want to swing at, and he did it for most of the night."
Shane Victorino reached base three times to continue his torrid second half, Dustin Pedroia had a key double off the Green Monster to keep the fourth inning alive and David Ortiz broke out of an 0-for-23 skid with a two-out, two-run single to put the Red Sox ahead for the rest of the game.
Farrell said he never considered moving Ortiz out of his cleanup spot after a slump that only lasted for six games. Asked about it, Ortiz looked confused and said, "Why should he?"
"He should have that faith," said Ortiz, who also walked twice. "I've been doing this for a long time. One week of struggling doesn't say anything about any player. We've had plenty of players who play every day who have struggled longer than me. What did he do? He played them every day. That's the way it should be. He knew I would bounce back."
Ortiz' slump-busting hit was a hard line drive just out of reach of Gordon Beckham, who was playing second base from shallow right field. Hits like those have been going the other way for Ortiz lately, but this one was big. Farrell called it a pivotal moment in the game.
"Given the way he swung the bat against [David] Purcey the following at-bat, it looked like a load was off his shoulders," Farrell said. "And I thought he had good at-bats throughout the night."
Dempster got one out in the seventh before he was taken deep by Avisail Garcia, the former Tigers outfielder who went to the White Sox in the deal that sent Peavy to Boston and Jose Iglesias to Detroit.
Farrell was then crafty with his bullpen, using Junichi Tazawa for three outs, Franklin Morales for one and closer Koji Uehara for four.
Uehara earned his 15th save, but just his second in which he was asked to get four outs. At 60 1/3 innings this season, the 38-year-old is approaching his career high, set in 2009 when he threw 66 2/3 innings for the Orioles.
Asked why he's been pitching so good, particularly since the All-Star break, Uehara said he played a lot of golf.
It might be of no coincidence that Dempster was pitching on the same day as Clay Buchholz was throwing at Triple-A Pawtucket, rehabbing from his injured trap/shoulder that's kept him out of action since June 8. With John Lackey, Jon Lester, Felix Doubront and Jake Peavy all pitching well in the rotation, Dempster could slide easily into the bullpen, where he's made 225 relief appearances compared to 348 starts.
Dempster said he hasn't thought about the possibility and "we'll cross that bridge when we get there."
Jason Mastrodonato is a reporter for MLB.com. Follow him on Twitter @jmastrodonato. This story was not subject to the approval of Major League Baseball or its clubs.