Buehrle baffles KC to set up Blue Jays' win
Buehrle baffles KC to set up Blue Jays' win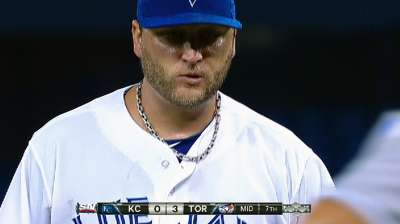 TORONTO -- Mark Buehrle was in his usual fine form on Friday night.
In typical Buehrle fashion, he recorded 12 ground-ball outs, struck out five and walked one in seven scoreless innings while pacing the Blue Jays to a 3-2 victory over the Royals in front of 21,031 at Rogers Centre.
The veteran left-hander has been on a roll in the second half after his ERA stood at 7.02 through his first seven starts -- over three runs above his career ERA. He also had a 1.56 WHIP and had yielded five or more runs in five of those starts.
Since then, Buehrle has been the Blue Jays' most consistent pitcher, going 10-5 with a 3.00 ERA, while lowering his season ERA to 3.92.
Against the Royals, the quick-working lefty breezed through seven innings en route to his sixth straight victory -- his longest win streak since 2005 -- where he's posted a 1.93 ERA and a 1.07 WHIP to go with 41 strikeouts in 56 innings over those eight outings. Buehrle also recorded his 23rd career win against Kansas City, the second-most against any club he's faced. Buehrle has 28 victories against the Twins.
"[He has] so many different weapons," Blue Jays catcher J.P. Arencibia said. "He mixes up sinker, cutter, changeup, curveball, in-out, up-down. He really commands the entire zone. It's impressive to see when he does."
Buehrle faced just six batters over the minimum and rarely found himself in trouble.
Only twice did Buehrle allow a runner to reach third base, and each time he got out of it. In the first, he induced a ground ball to third off the bat of designated hitter Billy Butler, then struck out Justin Maxwell to end a threat in the fourth.
"He was terrific," Royals manager Ned Yost said. "Kept the ball down, had movement on every pitch, changed speeds really, really well. Just terrific."
"You can't wait him out because he is always ahead in the count. He's throwing strikes, he's changing speeds … [You just] hope he hangs one somewhere and somebody hits it."
The Blue Jays moved to 18-10 in games when Buehrle starts.
For the most part, Royals starter Ervin Santana was matching Buehrle throughout, but a couple of timely hits with runners in scoring position were the difference.
The Blue Jays got to Santana early, but the threat was nearly squashed with a diving attempt at a catch by Royals left fielder Alex Gordon. On a sinking fly ball from Edwin Encarnacion to left-center field, Gordon stretched out as the ball deflected off of his glove.
It was a double for Encarnacion, putting runners on second and third with one out. Adam Lind then poked a single up the middle to put the Blue Jays ahead 2-0.
Toronto added another run when Goins plated Anthony Gose, who led off with a triple, to make it 3-0 in the fifth inning.
After Buehrle left, the Royals were able to quickly bite into that three-run lead -- plating two runs off Brett Cecil in the eighth. Former Blue Jay Emilio Bonifacio, making his return to Rogers Centre for the first time since the Aug. 14 trade to the Royals, got the Royals on the board with a sacrifice bunt. Bonifacio appeared to beat the ball to the first-base bag, but was called out by umpire Will Little. Eric Hosmer's single to chase Cecil made it 3-2.
Sergio Santos came on in relief with a runner on first and just one out.
Santos induced a high chopper off the bat of Butler down the third-base line. Lawrie made a stellar play to get Butler as he leaped up to barehand the ball and threw a strike to first while in the air to get the second out.
"Usually anything that kicks that high, you got to get rid of right away, so as soon as it came off the bat, I was like, 'All right, I'm going to have to do something here to get rid of it,'" Lawrie said. "I knew that once it hit the ground it was going to hop, just from the high hop it took earlier. But I thought it was going to jump higher than it did. But as soon as it jumped it kicked to my right, so that was a little uncomfortable, but I ended up making the play so it worked out."
"He's just putting on a highlight show since he came back from that ankle injury," Blue Jays manager John Gibbons said. "He's pretty good over there. He's good as anybody in the league, and that's a prime position for defense out there, especially in the American League."
Santos retired Salvador Perez on a groundout to end the inning.
The Royals threatened again in the ninth, but closer Casey Janssen worked around a pair of singles and a first-and-second jam with one out in the ninth to pick up his 25th save in 27 chances.
Just like Santos, Janssen benefitted from a fine defensive play. On the final out, second baseman Ryan Goins moved deep into the hole to smother a ground ball and fired to first to nab the speedy Gordon.
"Honestly, it all just goes so fast," Goins said. "You're diving, you're on the ground, you just try to get your body in the best position to make the strongest throw you can."
"I thought it was going to be close. Honestly, I thought I had a chance, but I didn't know with the runner being fast I didn't know if I would be able to get him but I thought I'd throw it over there and see what happens."
"They are very nice plays, but you've got to make those plays in the big leagues," Gibbons said. "You look around baseball, they may not make it in the Minor Leagues, but they guys up here make them because they're better players."
Evan Peaslee is an associate reporter for MLB.com. This story was not subject to the approval of Major League Baseball or its clubs.