Toronto manager Gibbons impressed with KC
Toronto manager Gibbons impressed with KC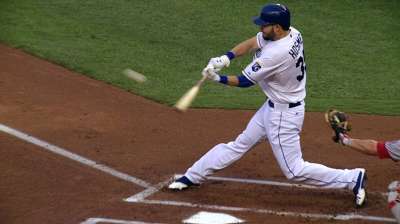 TORONTO -- Blue Jays manager John Gibbons, a former coach with the Royals, was glad to reunite with some familiar faces prior to Friday's series opener.
Gibbons, who spent three years as a bench coach for Kansas City from 2009-11, was greeted by many Kansas City players during batting practice, and briefly spoke about his time with the organization.
Kansas City was a team in transition when Gibbons was around, but he knew the club had a bright future with some of the young talent it had stockpiled.
"The one guy is Billy Butler, he's one of the best hitters in baseball," Gibbons said, when asked who he was most impressed with. "Alex Gordon in left field -- when they moved him to the outfield from third base, he really took off.
"Eric Hosmer was a rookie when I was over there and now he's one of the best first basemen you will find, and he can really swing the bat. They have a number of guys, [Alcides] Escobar is arguably one of the best shortstops in the game."
Pitching wasn't the Royals' biggest strength when Gibbons was in Kansas City, but this year's club has the best team ERA in the American League at 3.50.
Gibbons knows his Blue Jays are in for a tough series.
"They had a good bullpen back then, what was missing was the starting pitching," Gibbons said. "But the three guys they brought in, [Ervin] Santana, [James] Shields and [Jeremy] Guthrie, have done a nice job for them.
"It's a good ballclub, and I know most of those guys over there. They have a nice little team."
Chris Toman is a contributor to MLB.com. This story was not subject to the approval of Major League Baseball or its clubs.