Defense big staple of Orioles' success this year
Defense big staple of Orioles' success this year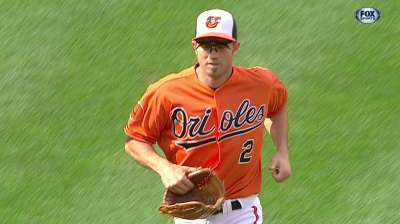 BOSTON -- There are no precedents for what the Orioles have done defensively.
Baltimore has made just 39 errors in its first 131 games this season and is on pace to finish with 48 miscues for the year, which would shatter the existing Major League record.
The Mariners set the all-time mark with 65 errors in 2003, and the Orioles are also on pace to set the single greatest fielding percentage in league history. Baltimore has fielded at a .992 clip this season, narrowly ahead of the all-time mark of .989 set by the Rockies in 2007.
Baltimore has been so good, in fact, that its entire infield may be eclipsed by individual players. The Orioles have seen their infield -- excluding their catchers -- combine for just 28 errors this season, and Pittsburgh's Pedro Alvarez (25) and Chicago's Alexi Ramirez (21) may be able to catch them.
So what has been the biggest factor in Baltimore's historically clean season? Third-base coach Bobby Dickerson, who doubles as the infield coach, gives a lot of the credit to shortstop J.J. Hardy, who won an American League Gold Glove Award last season.
"We have pretty much the epitome of a fundamental shortstop who plays the game smart and makes good decisions," said Dickerson. "One of the biggest things that has happened has been our first-base play. Chris Davis has probably saved eight or 10 throwing errors, which in turn saves a whole lot more. Once the guys feel comfortable throwing, they don't aim the ball over there. Most defenses, if you don't throw the ball away, you usually play pretty soundly."
Hardy, a two-time All-Star, passed the credit on to the people around him. Hardy said that he's worked with a number of second basemen this season and that all of them have been strong defensively. He also credited third baseman Manny Machado for having a standout season of his own.
"Consistency. Range. Awareness. Arm. All of the above," said Hardy of Machado's strengths. "I think he's doing everything that any third baseman can possibly do to be as good as he's been."
The Orioles aren't resting on their defense, and Hardy said that each of the players have shown a commitment to focus and working on the little things. Nobody in Baltimore is gunning for the record. The O's are just playing solid defense and hoping that it makes a difference in the standings.
"We still have a long way to go," said Dickerson, "and I think that's one thing that sums us up. None of that is even an issue for us. We're trying to make the playoffs. The focus is on playing today. These guys are fundamentally sound and they're focused on every pitch. It's that kind of defense."
Spencer Fordin is a reporter for MLB.com. This story was not subject to the approval of Major League Baseball or its clubs.