Orioles paying close attention to waiver wire
Orioles paying close attention to waiver wire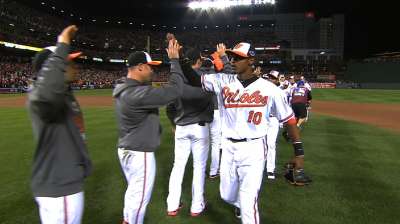 BOSTON -- Making a claim is only part of the process -- and everybody's doing it.
Manager Buck Showalter talked about Baltimore's activity on the waiver front on Thursday, and he made it clear that the Orioles are in the market for another player. However, he also said that virtually every team in the playoff picture is claiming players in the hopes of adding them.
Baltimore has reportedly made a successful claim on two players -- Minnesota's Josh Willingham and Seattle's Mike Morse -- and is in the process of trying to acquire them. But Showalter said that the Red Sox are making the same effort, and that at this point, it's just a matter of due diligence.
"Everybody is. It's that time of the year. That's why the Trade Deadline isn't really a pure deadline," said Showalter of waiver claims. "People that don't see themselves as part of it are trying to make a deal now that really sets them up in the future. ... There's a lot of things going on behind the scenes."
Showalter said that he hasn't spoken to general manager Dan Duquette on Thursday, but he acknowledged that the front office is all over the claim game. In fact, Showalter said that he gets an e-mail every day about who's available on waivers, and that sometimes it's a shocking name.
"If you sit there and look at it every day, you're like, 'Oh my gosh, they put one of the best players in the game on trade waivers today,'" said Showalter of the waiver list. "No, you don't have a chance for him. I'm not real sure why they do that, but there's got to be some good reason."
The bottom line is this: Showalter is going to make out his lineup card every night based on who gives them the best chance to win. If the Orioles are able to add a bat or two before September, he'd be thrilled with that development, but otherwise, Showalter likes his current personnel.
"I think it's right here. It might be Wilson Betemit. It might be Henry Urrutia coming back," said Showalter of reinforcements from within. "There's a lot of things moving. Until somebody tells me there's something else coming, I think it's right here and I think it's the people we have."
Spencer Fordin is a reporter for MLB.com. This story was not subject to the approval of Major League Baseball or its clubs.