Dominant Gallardo helps play spoiler in Pittsburgh
Dominant Gallardo helps play spoiler in Pittsburgh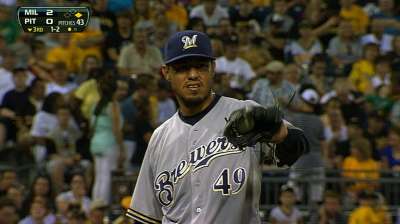 PITTSBURGH -- If you thought the Milwaukee Brewers were irrelevant in the National League Central this season, think again.
Long out of the running for a postseason berth themselves, the Brewers appear set on playing spoiler. They beat the Pirates on Thursday, 4-0, and took two of three games at PNC Park, right on the heels of doing the same to the Reds in Cincinnati.
The big winners after Yovani Gallardo threw seven scoreless innings, Jonathan Lucroy drove in two runs and Aramis Ramirez homered to cap the Brewers' 4-2 road trip were the St. Louis Cardinals, who will begin a critical weekend series in Pittsburgh on Friday with a one-game lead over the Pirates and a 3 1/2-game advantage over the third-place Reds.
With 12 games still remaining against that trio of contenders, the Brewers have an opportunity to help decide which division rivals play into October.
"We all know," Gallardo said. "We hear things. We might be the team to spoil the chance of certain teams. But no matter what, when you're playing teams within your division, there's always that competitiveness, whether it's the first week of the season or the last."
Gallardo did his part by delivering one of his best starts of the season. He scattered six hits, including four to Pirates newcomers John Buck and Marlon Byrd, but yielded no runs thanks to five strikeouts and two double plays. Brewers reliever Brandon Kintzler covered the final two innings and induced another Pirates double play in the ninth -- the last of seven double plays turned by the teams in the game.
In three starts -- all Brewers victories -- since returning from a stint on the disabled list for a hamstring injury, Gallardo is 2-0 with a 0.93 ERA (two earned runs in 19 1/3 innings). He has pitched at least six innings in each of those games, and held the opponent scoreless in two.
His two and a half weeks on the DL, Gallardo said, offered an opportunity to correct the mechanical issues that had been dragging him down. Since his hamstring was the issue and not his arm, Gallardo was able to throw a series of flat-ground sessions under pitching coach Rick Kranitz's watch. He made adjustments.
"It kind of just took some of the pressure off, mechanics-wise," Gallardo said. "I wanted to fix everything all at once, and it's a little bit tough to do when you're going out there every five days competing against big league hitters."
The result?
"Since he came off the DL, he's been very efficient, throwing with the downhill angle -- this is the guy you saw the past two years," Pirates manager Clint Hurdle said. "He changes speeds, stays out of the middle, has late life on the ball. We couldn't connect the dots. We got couple of guys on base early for that big hit -- didn't happen. He was able to shut us down, so we'll move on."
The implications of Gallardo's late-season surge are significant. He is trying to salvage a season in which he will fall short of 200 strikeouts for the first since an injury-shortened 2008, and his first season short of 200 innings since '10.
"When your No. 1 guy isn't pitching like he's used to pitching, there's always a concern," Brewers manager Ron Roenicke said. "I think it's huge. Him coming back and throwing the ball and finishing out the way we know he can pitch is huge for all of us going into next year, him included."
Brewers hitters gave Gallardo an early lead against Pirates starter Gerrit Cole by putting the leadoff hitter on base in three of the first four innings. Lucroy blooped an RBI single to right field in the first inning, Khris Davis pounded an RBI double off the right-field wall in the second and Ramirez homered to the right-center field seats leading off the fourth to make it 3-0. It was Ramirez's second home run in the series, and a promising sign for a player trying to rediscover his power at the end of an injury-affected season.
Lucroy's sacrifice fly in the eighth inning provided insurance by driving in Scooter Gennett, who finished with three hits.
"We're just going out, playing hard and having a good time," Lucroy said. "I think we're playing up to our potential a little bit. We got [Ramirez] back, which is key. That guy can hit, man. With him in there swinging it, we're playing up to some better baseball."
Said Cole: "They're tough to pitch to. They're very aggressive, so you know they're going to swing at certain counts. So you have to miss at the right spots, and it took me a while to get a feel for that."
Cole pitched into the eighth inning, but lost after allowing four runs (three earned because of his own error on a pickoff attempt) on 10 hits. He walked one and struck out four. The hard-throwing rookie has surrendered 10 hits in each of his last two starts, and he is lined up to face the Brewers again next week when the teams meet at Miller Park.
First, the Brewers will host the Angels in an Interleague Series that offers a chance to showcase shortstop Jean Segura, the key player acquired from the Angels in last summer's Zack Greinke trade.
"That's a really good road trip," Roenicke said as the Brewers packed their bags late Thursday. "Against these two teams, a really good road trip. The games we won, we pitched great, and our offense, these young guys continue to do great things."
Adam McCalvy is a reporter for MLB.com. Read his blog, Brew Beat, and follow him on Twitter at @AdamMcCalvy. This story was not subject to the approval of Major League Baseball or its clubs.