Offense stymied, Sox miss chance to sweep O's
Offense stymied, Sox miss chance to sweep O's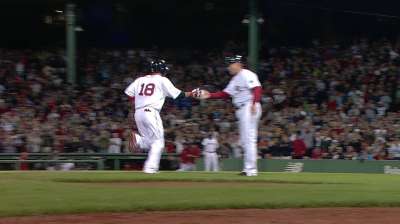 BOSTON -- The big hit was finally elusive.
After completing their 30th come-from-behind win of the season on Wednesday, the Red Sox had a nearly identical situation presented late in the game on Thursday night: Jacoby Ellsbury was on first base with no outs in the eighth inning. Ellsbury stole second off Orioles' pitcher Tommy Hunter. But Shane Victorino, Dustin Pedroia and David Ortiz couldn't drive him in.
Always within reach, the Red Sox were one hit short. Pedroia and Ortiz combined to go 0-for-8, Ortiz pushing his hitless at-bat streak to 22 in a 3-2 loss to the Orioles at Fenway Park.
"Not good," Ortiz described his night at the plate. "I'll be all right. Just keep on fighting. Nothing else you can do. It's part of the game."
The Sox still came away with two of three in the series, outscoring the O's 19-8, and have a 2 1/2-game lead over the Rays in the American League East before they begin a three-game series with the White Sox on Friday.
For most of Thursday night, it seemed, Boston's outfielders were on the run. Their first steps were usually backward.
Jon Lester wasn't as sharp as he has been, at times looking lost in the strike zone while surrendering towering fly balls and screaming line drives. But he was good enough, holding the fourth-most potent offense in the Majors to three runs on five hits over six frames. And his defense was better.
Victorino nearly fell into the Red Sox's bullpen chasing down a Matt Wieters blast to right-center that saved at least two runs. Ellsbury made a headfirst diving catch off the bat of Brian Roberts. Will Middlebrooks made a stretched-out stab at third base to rob Nick Markakis of a base hit. Pedroia also robbed Markakis on a diving effort, but that play was overshadowed by a previous highlight in which he threw out Danny Valencia trying to advance from second to third on a routine ground ball.
The Orioles made solid contact all evening. Runners reached base in four of six innings Lester pitched while 11 balls made it into the outfield, many of them caught near the warning track or bouncing off the left-field wall. Others were scorched into foul territory; one even cleared everything in left field and landed on Lansdowne Street.
The only damage was done by a pair of doubles off the Green Monster. Manny Machado, who leads the Majors in doubles (46) smoked a two-run, two-base hit in the third inning, and Chris Davis fell behind 0-2 before launching an RBI double off the wall in the fifth.
"I felt like I had a pretty good fastball tonight, just not a lot of command of really anything," said Lester.
The lefty threw 67 of 112 pitches for strikes, and that's been an obvious recipe for disaster for him this season. Lester has an ERA of 7.53 in five starts in which he throws less than 60 percent strikes.
"What it did was it cut his night short," Farrell said. "The last couple times out it's been eight, seven innings. He's been on a good run here."
Matt Thornton pitched a scoreless seventh, Brandon Workman worked 1 2/3 scoreless innings and Craig Breslow got Davis to groundout to end the eighth to keep the Red Sox alive for the entirety of the game, but the big hit wasn't there.
The Red Sox have yet to figure out O's starter Chris Tillman, who pitched a seven-inning, two-run gem. In nine career starts against Boston, Tillman has a 2.15 ERA.
Victorino, who has been hitting exclusively from the right side while dealing with a left hamstring injury, hit his 12th home run of the season (his eighth since the All-Star break), but nobody was on base.
"I don't think anybody can get him out right now," said O's manager Buck Showalter. "I hope he starts hitting left-handed again."
Ellsbury stole his 50th base, joining Michael Bourn as the only active players with three seasons with at least 50 steals.
Jason Mastrodonato is a reporter for MLB.com. Follow him on Twitter @jmastrodonato. This story was not subject to the approval of Major League Baseball or its clubs.