With DL returns, callups, A's roster could be packed
With DL returns, callups, A's roster could be packed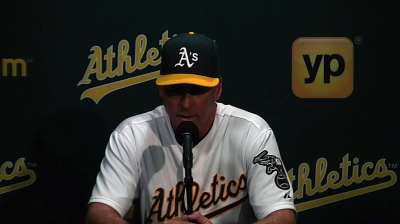 DETROIT -- The A's typically keep their September roster additions to a minimum, but that likely won't preclude them from boasting a packed house down the final stretch this year.
Aside from the predictable bullpen help expected to arrive -- Tommy Milone, Evan Scribner and Pat Neshek lead the list -- and perhaps some extra speed -- think Jemile Weeks -- the A's roster will be longer than normal, with the potential return of injured players Josh Reddick, Derek Norris and John Jaso.
There are also the players who warrant a callup based on their work in the Minors, notably outfielder Michael Choice, who is batting .300 with 14 home runs and 89 RBIs in his first full season with Triple-A Sacramento.
"With the guys that we have on the DL alone, and guys like Milone and Neshek, and then add some people that probably deserve to be there, you could see a few more this year," said manager Bob Melvin.
That doesn't mean Melvin is a big fan of Septembers.
"I don't like all the callup stuff. I really don't," he said from Comerica Park on Thursday. "It's much more difficult to prepare for teams. You don't know how they're going to use their bench. To me, it's a bit of a distraction that I'm just not a huge fan of. ...
"I could see calling up as many guys as you want, but maybe designate 27 guys a game, maybe 28. But when you have seven, eight, nine more guys over there, it's more confusing."
Jane Lee is a reporter for MLB.com. This story was not subject to the approval of Major League Baseball or its clubs.