With little fanfare, Callaspo producing for A's
With little fanfare, Callaspo producing for A's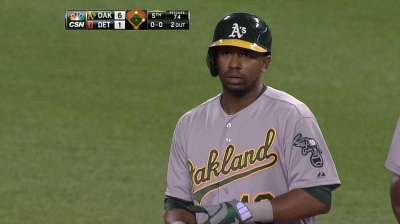 DETROIT -- The A's reeled in Alberto Callaspo in a trade with the Angels before July's non-waiver Trade Deadline without much fanfare, and the veteran infielder has since provided consistent production in much the same fashion.
Callaspo, swapped for infield prospect Grant Green, has quietly hit .309 with a .400 on-base percentage and nine RBIs in 24 games since joining Oakland, including .368 with a .456 on-base clip in the last 19 games.
His ability to put the ball in play is perhaps no more evident than by looking at how many times he's missed it. Callaspo has struck out just 32 times on the season, and his average of one strikeout per 13 plate appearances is the best mark in the American League.
"Whether it's right- or left-handed, he seems to be getting the barrel on it," said manager Bob Melvin. "It's not a guy you expect to hit a bunch of home runs for you, but you expect him to put the ball in play, hit line drives. He's been knocking in runs. He's been extending rallies. Also another guy who's been very versatile where you can hit him in the lineup."
The switch-hitting Callaspo was one of eight lefties the A's threw at Tigers starter Max Scherzer on Thursday. It marked his 12th start with the A's at second base, but he's also appeared in the designated hitter slot five times. That's five more times than manager Bob Melvin probably ever envisioned using him there.
"Using him in the DH spot," Melvin said, "I wasn't sure if that was going to be part of the dynamic, but he's certainly earned it."
Jane Lee is a reporter for MLB.com. This story was not subject to the approval of Major League Baseball or its clubs.