Peralta's success forged by craft, deception
Peralta's success forged by craft, deception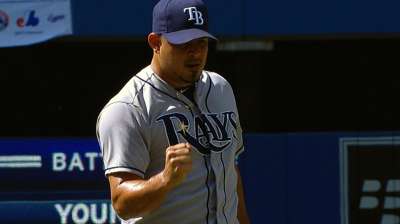 ST. PETERSBURG -- Tampa Bay right-hander Joel Peralta entered Thursday's contest among the American League's leaders in appearances (65, tied for first) and holds (34, first).
Peralta also leads AL relievers with 212 appearances since joining the Rays in 2011.
What makes Peralta a marvel to watch is the fact he's not a hard thrower like many late-inning guys, but he finds a way to get the job done.
Rays manager Joe Maddon credited Peralta's success to a combination of "want to, which is guile" and the fact the ball he throws "does move."
"I mean, there's a little ride on that fastball that makes it difficult for a lot of hitters to catch up," Maddon said. "But then he's got two really good other pitches, with the split and the curveball.
"Furthermore, don't underestimate the importance of deception. When you go out and you're scouting guys all the time, everybody's looking for that beautiful, clean delivery. And that's all right. But I really dig funk and deception in the bullpen. And I think a little bit of the success he's had is the funk he's got."
Peralta smiled when asked how he sees himself.
"Smart pitching, I would say," Peralta said. "Once, a friend of mine told me, 'If you want to be successful, try to get in the hitter's mind, keeping them off balance.' I'm trying to get in the hitter's mind every time I throw a pitch. So I'm trying to guess what he's guessing. I'm trying to guess what he's waiting for. Scouting reports help, and just being aggressive. Probably the most important thing is to not be afraid."
Peralta believes that fear disables a lot of pitchers.
"I know guys that are afraid of getting the pitch for contact," Peralta said. "And that doesn't help. If you don't want to pitch to contact, you are afraid of getting hit. And if you're afraid of getting hit, something bad is going to happen because you're going to live outside the strike zone -- and when you come in, they're going to get you."
Despite the many reasons cited, Peralta said he has been surprised by his success.
"I work really hard, but the fact that I'm not a hard thrower and I don't have that great stuff like a lot of guys do, especially in this division and this league -- for three straight years, it's really tough to do," Peralta said.
Bill Chastain is a reporter for MLB.com. Sam Strong is an associate reporter for MLB.com. This story was not subject to the approval of Major League Baseball or its clubs.