Hochevar transitioning wonderfully to bullpen
Hochevar transitioning wonderfully to bullpen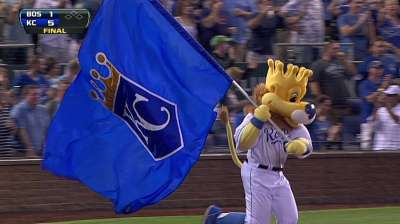 MINNEAPOLIS -- Luke Hochevar is heading into the final month of his transitional year from starting pitcher to reliever and the results have been resoundingly good.
"Everything I hoped he would do, he's done," Royals manager Ned Yost said.
Hochevar returned from paternity leave -- he and his wife, Ashley, had a second daughter, Lucy Jane, on Sunday -- and reeled off a perfect four-out performance in relief of winning pitcher Danny Duffy in Wednesday night's 8-1 victory over the Twins.
A starter his entire career, Hochevar has learned to like working out of the bullpen.
"It's enjoyable, it really is. It's a lot of fun," he said. "You get that shot of adrenaline, you're coming in late in the game, whether the game's on the line or whatever the situation is."
He came out of Wednesday night's game with a 1.88 ERA in 45 games. His record: 3-2 with two saves.
Comparing starting with relieving, Hochevar noted that a starter basically has to prepare for seven innings, trying to methodically work his way through the opposition. The bullpen approach is entirely different.
"If you have the lead in the sixth [inning] or whatever, the game should be over. That type of mentality is what I found with the bullpen we have here, and we've had a good bullpen for a while now. So you've got to come in and get outs any way that you can -- you just need to get outs," Hochevar said.
"With starting, you're facing guys three or four times, and maybe you don't show all your weapons to them the first time. You don't want to show them everything you've got or show them the way you're going to get them out," he continued. "Especially when you get late in the game, it's a crucial situation and you've already gotten them out a different way -- it's more of a chess match, a cat-and-mouse game. Coming out of the bullpen is more like that football mentality -- you're just going right at 'em and throwing the pitch that'll get 'em out right now. But both parts are fun."
Going into the series finale in Minnesota on Thursday, Hochevar has held opponents to a .172 batting average, lowest on the staff, with 59 strikeouts against 16 walks in 57 1/3 innings.
Yost noted that when the Royals -- their rotation changed by an offseason infusion of new starters -- decided to put Hochevar in the bullpen, he accepted the change without a fuss.
"He and Bruce [Chen] and Mendy [Luis Mendoza], too, when they went on relief -- a team-first attitude," Yost said. "They've got to buy in or it's not going to work, and they all did."
But would Hochevar like to be a starter again?
"Yeah, absolutely," he said. "I enjoy starting, I really do. Then again, at the end of the day, you don't get a vote. You do what's going to help the team and I think that means more than having your own pick. Wherever you want me -- if you feel I'm going to help the team more in the bullpen, [or] if you feel I'm going to help the team more as a starter. Whatever it is, that's what it's about: Going out and taking your role, whatever you're given, and going out and doing the best job possible.
"Coming in next year, if they want me to start, I'll be happy to start and work my butt off to be the best starter I possibly can be. If they want me back in the bullpen, so be it. I don't get a vote. It really doesn't matter what I want. What matters is that whatever my job is, I go out and I do all that I can to help the club win because, at the end of the day, that's all that really matters."
Dick Kaegel is a reporter for MLB.com. This story was not subject to the approval of Major League Baseball or its clubs.