Twins' bats quiet; losing streak extended to five
Twins' bats quiet; losing streak extended to five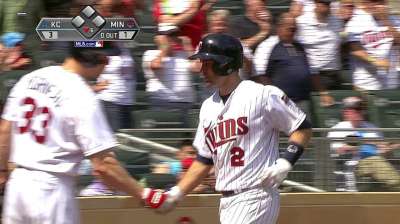 MINNEAPOLIS -- The oft-described "widely erratic" Samuel Deduno has been one of the more consistent pitchers for the Twins in 2013.
With a 3.83 ERA and an 8-8 record, he's the only starter with more than 10 starts that has a .500 record.
But in a 3-1 loss to the Royals at Target Field on Thursday, the righty just wasn't himself.
"It's just not coming out sharp," bench coach Terry Steinbach said. "He's got movement on his ball, we all know that, but when Sammy came up here this year, his control was pleasantly good for us. He was commanding the ball very well. In his last few outings, he hasn't done that. The velocity has been there, [but] the snap hasn't been there and we just have to figure out why that is."
Deduno -- who's averaged six innings in his 18 starts -- only lasted three on Thursday. Not only was his outing brief, he gave up three runs on four hits, a walk and a hit batter, striking out four. He threw just 71 pitches and left with soreness in his right shoulder.
"It felt better than last time," Deduno said. "But I missed a couple pitches. I had a few bases on balls and a hit by pitch, but I felt better than last time."
The Royals broke things open in the second inning. Deduno put two runners on to start the frame, issuing a walk to Billy Butler before hitting Justin Maxwell. Home-plate umpire Alan Porter issued a warning to Deduno, who is often described as wildly erratic -- a move Twins manager Ron Gardenhire took issue with. Porter wasn't liking what the skipper had to say and tossed him, marking his fourth ejection of the year and 66th of his career.
"I don't think he did it on purpose, but, considering the history of this year, I don't like getting hit," Maxwell said. "It hit me in the tricep. I knew it wasn't on purpose, but it was just one of those things. I missed two months with a broken hand earlier in the year. We're playing for something here and I just don't want to miss any more time."
The hit batter came back to hurt the Twins. Alcides Escobar followed two batters later with an RBI infield single, as Brian Dozier's toss to first was a too high for Deduno, forcing him to jump for the catch as Escobar reached safely. Chris Getz then drove in Maxwell on a base hit to short left field.
Getz made it 3-0 two batters later when he scored on Alex Gordon's bloop single to left. Getz got a good jump at second, a base he took on a double steal with Escobar during Jarrod Dyson's at-bat.
The right-hander wasn't the only Twins player to leave early due to injury. Wilkin Ramirez fouled a ball off his left shin in the fifth, exiting with a contusion. He is listed day to day. Chris Herrmann stepped in with a 0-2 count to finish the at-bat (he grounded out), and he filled in for Ramirez the rest of the game in right field.
Minnesota, which has struggled with getting any offense lately, finally got on the board in the sixth, when Dozier led off the inning with his 14th home run of season.
"These things cycle," Steinbach said of the lack of offense. "It's frustrating for everybody. … The guys themselves are hitting extra, they're doing a lot. You just have to work yourself through these slumps. It doesn't make it any easier. It doesn't make it any better for us to be out there watching this, but I know the guys are trying. ... If we can keep that work effort up, we're going to turn the page here -- and hopefully sooner than later."
Royals starter Bruce Chen gave up the lone run on five hits and walk in 5 2/3 innings, with three strikeouts, and three relievers tossed 3 1/3 hitless innings.
"I went back and I tried to be more aggressive," Chen said. "Especially the last game, I walked five guys and I said, 'You know what, I need to give my defense a chance to play.'"
With the series sweep, the Royals finished 15-4 against Minnesota this season and have now put together a five-game win streak after a seven-game skid.
"They have a lot to offer," Steinbach said. "They're a team that they have some speed, they have some power and they have some great arms coming out of the bullpen. To sum it up, it's kind of how you want to build a club. We can still hit those guys. We had a couple opportunities to score some runs, and we just needed to capitalize on those a little bit more and it would have put us right back in the game."
Kelly Erickson is an associate reporter for MLB.com. This story was not subject to the approval of Major League Baseball or its clubs.