Duffy getting familiar with the Twins
Duffy getting familiar with the Twins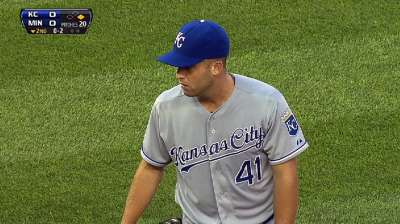 MINNEAPOLIS -- The Twins have seen Royals left-hander Danny Duffy in two of his three starts so far since being called up.
Duffy worked 3 2/3 innings and gave up two runs in his Aug. 7 return and then worked 6 2/3 scoreless innings in Wednesday night's 8-1 win. He struck out seven in both outings.
"He was throwing the living fire out of the ball, as advertised," Twins manager Ron Gardenhire said. "He commanded the strike zone a lot better this time than he did last time."
Indeed, Duffy walked no one and threw 73 of his 103 pitches for strikes.
"I didn't see any difference in his stuff last night after [Tommy John] surgery [in June 2012] than we did before the surgery," Royals manager Ned Yost said Thursday. "It might even be better."
Dick Kaegel is a reporter for MLB.com. This story was not subject to the approval of Major League Baseball or its clubs.