Arcia not yet swinging after wrist injury
Arcia not yet swinging after wrist injury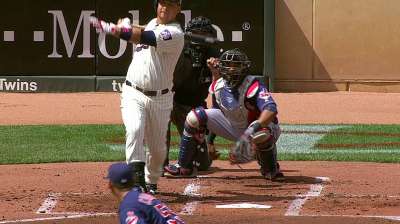 MINNEAPOLIS -- Outfielder Oswaldo Arcia continues to recover from a sore left wrist, but he isn't taking any swings.
Arcia will travel this weekend with the team this week to Texas and Houston, but he will continue to receive treatment and rest.
"We're going to back him off as much as we possibly can to let it heal," Twins manager Ron Gardenhire said. "It won't do us any good to almost get there, swing and then irritate it again. We're backing him off. Until he says there's no more pain, then we'll go from there."
Gardenhire noted that at a different point in the season Arcia would most likely go on the disabled list, but seeing as September callups are only a few days away, it doesn't make sense to do it now.
While the Twins expect to get some extra bodies on the roster come Sept. 1, Triple-A Rochester is also in the middle of a playoff push. The Twins plan on letting Rochester finish out the year the best it can.
"We'll probably get some help right after Sept. 1," Gardenhire said. "People that we feel we can get up here without hurting their chances and that we have talked about bringing up here for immediate help. After their done down there, we'll probably get a few more."
Rhett Bollinger is a reporter for MLB.com. Read his blog, Bollinger Beat, and follow him on Twitter @RhettBollinger. Kelly Erickson is an associate reporter for MLB.com. This story was not subject to the approval of Major League Baseball or its clubs.