After tough outing, Caminero sent to Triple-A
After tough outing, Caminero sent to Triple-A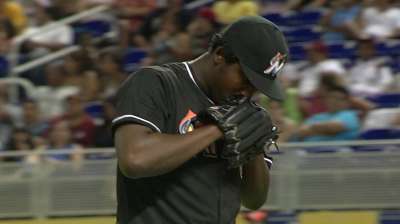 WASHINGTON -- Less than two weeks after making his Major League debut, Marlins reliever Arquimedes Caminero was sent back to the Minors following Wednesday night's 4-3 loss to the Nationals. Miami optioned the right-hander to Triple-A New Orleans and is expected to make a corresponding roster move on Thursday.
Caminero surrendered two hits in the sixth inning Wednesday night, including a game-tying solo home run by Jayson Werth. The 26-year-old reliever allowed as many hits in the game as he had in his first three Major League appearances combined, but his performance was not enough to warrant a spot in manager Mike Redmond's bullpen.
The move will still be a promotion of sorts for Caminero, who jumped straight to the Marlins from Double-A Jacksonville on Aug. 16. He was 5-2 with a 3.61 ERA in 42 appearances with the Suns this season.
Caminero could rejoin the Marlins soon, as rosters expand on Sunday.
Tom Schad is an associate reporter for MLB.com. This story was not subject to the approval of Major League Baseball or its clubs.