Marlins show offensive life, but 'pen falters in DC
Marlins show offensive life, but 'pen falters in DC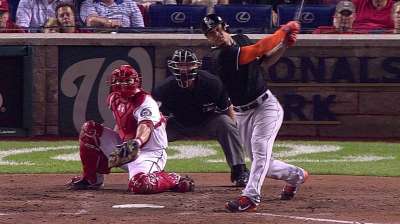 WASHINGTON -- Manager Mike Redmond is used to watching his team play on the edge, where one mistake can quickly turn into a loss. And that's what happened at Nationals Park on Wednesday night.
The Marlins led for a split-second in the bottom of the sixth inning, but the moment vanished as quickly as it had appeared. Mike Dunn walked Denard Span to lead off the seventh and then watched him score on a single to left four batters later. The Marlins lost for the seventh time in eight games, falling to the Nationals, 4-3.
"We're pretty used to playing and pitching on pins and needles, where every run is huge, and there we were again tonight in that situation," Redmond said. "Those leadoff walks usually come back to haunt you, and it did."
The Marlins have struggled at the plate recently, scoring three runs or fewer in seven straight games. This time, the offense provided a lead and the bullpen couldn't hold it.
Arquimedes Caminero entered the game with a one-run lead in the top of the sixth inning and threw a fastball to Jayson Werth. Then he threw another, and Werth sent it to straightaway center field to tie the game. The Marlins optioned Caminero to Triple-A New Orleans after the game.
Dunn entered in the seventh. After skipping a pickoff attempt past Logan Morrison and allowing Span to take second base, Dunn intentionally walked Werth. Ian Desmond laced a single to left field on the next pitch.
"It's frustrating because I feel like all year when I've been off on something, I've been able to make the adjustment one or two pitches later," Dunn said. "I felt like I was fighting myself along with them on every pitch."
The Marlins' bullpen had an unexpectedly heavy workload on Wednesday after the game was delayed for 72 minutes in the bottom of the second inning, chasing both starters. Henderson Alvarez allowed one run on three hits over 1 2/3 innings in his abbreviated outing. Ryan Webb was pressed into an extended outing and allowed just one run over 3 1/3.
The rain thinned Miami's bullpen, but it might have also been a blessing as it ended Stephen Strasburg's night. Strasburg breezed through the first two innings with 22 pitches and didn't yield a single hit. Redmond downplayed Strasburg's exit after the game, noting that the Marlins have had success against the right-hander in the past.
"We were both in the same boat," Redmond said. "It doesn't matter. Any time you go out and lose your starter -- for them as well -- that's not good."
Yet with Strasburg gone, Miami's offense showed immediate improvement against reliever Craig Stammen, recording two hits in the third inning and another in the fourth. Jeff Mathis then put the Marlins on the board in the fifth with a solo shot that landed in the visitors' bullpen in left field.
Miami continued to beat up on Washington's bullpen in the sixth inning, when Giancarlo Stanton crushed a 3-2 slider from Ryan Mattheus to deep center field. It was Stanton's 12th home run in 25 games at Nationals Park, where he was hitting .359 with an .837 slugging percentage entering the game.
"I don't know [what it is]. They've always had great pitching, and they've always been solid," Stanton said of his success in Washington. "I can't explain it."
The Marlins had several opportunities to break the game open. With runners on the corners and no outs in the sixth, Adeiny Hechavarria hit a slow roller to third. Morrison absentmindedly headed for home and was tagged out in a rundown. The Marlins only mustered one run in the inning.
Then, in the seventh, the Marlins had two aboard with no outs for Stanton against Drew Storen. They left the inning empty-handed.
"You get into those situations, and we've been in them a lot, and it usually comes down to a great defensive play or a big hit," Redmond said. "And we've been on the other end of both most of the year."
The Marlins were 2-for-11 with runners in scoring position on Wednesday night. When asked if the team might have been pressing, Stanton was blunt.
"We've never been able to score runs all year," he said. "It's no different."
With the loss, the Marlins fell to 8-17 in August and 14-24 since the All-Star break. Many of those games have come down to one big hit or one missed opportunity. Wednesday night was no exception.
"They just seemed to score every time we scored, and we just couldn't get that shutdown inning," Dunn said. "Unfortunately it was a leadoff walk that sort of screwed everything up."
Tom Schad is an associate reporter for MLB.com. This story was not subject to the approval of Major League Baseball or its clubs.