Three Royals homers back Duffy's stellar start
Three Royals homers back Duffy's stellar start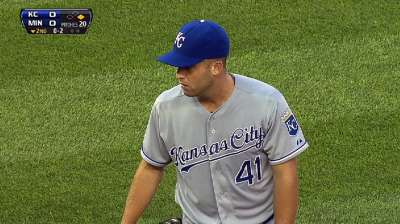 MINNEAPOLIS -- Evidently, Danny Duffy's elbow surgery took pretty well, and Salvador Perez is over his concussion. Together, they looked real healthy Wednesday night.
Duffy pitched 6 2/3 scoreless innings, and Perez knocked in four runs with two homers as the Royals defeated the Minnesota Twins, 8-1, at Target Field for their fourth straight victory. The 27,379 fans saw the Twins take their fourth loss in a row.
Perez, who missed a week earlier this month because of a low-grade concussion, was 4-for-5 and had the first multihomer game of his career. He is 11-for-22 (.500) in his last five games.
"That was fun," Duffy said. "I can't say enough about the guy behind the plate. Salvy really killed it."
The left-hander meant more about the way Perez handled him during the game than about the catcher's prodigious night at the plate.
"Sometimes," Perez said, "he gets too excited on the mound, so before the game I told him to just come down a little bit. Throw for my glove, we're going to work both sides of the plate, and that's what we did."
There are those visits-to-the-mound moments when Perez helps as well.
"I've still got a lot of work to do," Duffy said. "I left a couple of hangers, and I knew it. Salvy came out and let me know it."
Duffy, making his third big league start since Tommy John surgery in 2012, got the first two outs in the seventh. Then Chris Herrmann got the fifth hit -- all singles -- that the Twins managed off Duffy, and he was three over his 100-pitch limit. Manager Ned Yost called in right-hander Luke Hochevar, who got the third out.
Duffy's command was so good that he issued no walks and, of his 103 pitches, 73 were strikes. He finished with seven strikeouts.
"He had everything tonight," Yost said. "He had great stuff. He had command. He's such a competitor, but he did a great job with his mound presence. He was on the attack, he was in control, he was commanding the ball with great stuff. You can't ask for a better game pitched."
Or a better game at bat than Perez had. His first three hits came off Twins starter Andrew Albers, a rookie left-hander who had thrown 8 1/3 scoreless innings against the Royals in his Major League debut Aug. 6. But Perez hammered a double high off the wall, pounded a two-run homer 415 feet into the second deck and singled up the middle off the lefty.
Perez's other two-run homer came in the eighth inning against right-handed reliever Casey Fien.
"Sal could have had three homers, really," Yost said. "He smoked that first ball; if it was a little more to the left, it'd have cleared the center-field fence, but it just hit that wall in right-center."
When, following his first homer, Perez came up in the sixth inning, Albers buzzed a pitch high and inside. Perez had to duck out of the way, and home-plate umpire Hunter Wendelstedt warned both benches.
"You know the situation: two out with nobody on base and the first pitch near to me," Perez said. "In the first two at-bats, he never tried to throw a pitch way in to me. Not that close. I didn't say anything bad; I just said if you want to hit me, just hit me in the back. Don't try to hit me in the head."
Albers said he was not headhunting.
"It was one of those things where I don't have good enough stuff to go away, away, away. I gotta go in," Albers said. "Unfortunately, it looked bad because he hit two lasers the first two times up, and it was the first pitch. But I'm not going after his head or trying to hit him in that situation. I'm trying to go inside, and sometimes it gets away. But it's part of baseball."
Perez's response was to line a sharp single that whistled just past Albers.
"He got me hyped when he answered with the line drive up the middle," Duffy said. "I was very excited about that. Salvy's a monster back there."
Albers also gave up a solo blast to Alex Gordon, so all three runs off him came on home runs. The Twins' only run was the result of Justin Morneau's blast off Aaron Crow in the ninth. Crow followed Hochevar, who retired all four batters he faced.
In his comeback, Duffy stands 2-0. In his previous start, he pitched six scoreless innings against Detroit, so he's got a shutout streak covering 12 2/3, and his ERA is down to 1.10.
"They told me when I first had surgery it's going to take some time to get your feel back for everything, and that's exactly what happened," he said. "I'm lucky to have it come back as fast as it has."
Perez's two homers gave him nine for the season, including five in his last 10 games. In that span he also has a .372 (16-for-43) average and 16 RBIs.
"That's what I'm supposed to be doing," Perez said.
Also, his head is clear, with no aftermath of the concussion caused by foul shots off his mask.
"I feel great right now, feel fine. No more of that," he said.
The Royals are looking pretty healthy right now, especially to the Twins. The Kansas City advantage in the season series is 14-4 with one game left.
"They're whacking us pretty good," Twins manager Ron Gardenhire said. "They're a confident baseball team, and they're in a pennant race. They're coming in and swinging and playing well and making all the plays you're supposed to. You give them too much breathing room, and they'll get you."
Dick Kaegel is a reporter for MLB.com. This story was not subject to the approval of Major League Baseball or its clubs.