Opportunistic Blue Jays get best of Yanks
Opportunistic Blue Jays get best of Yanks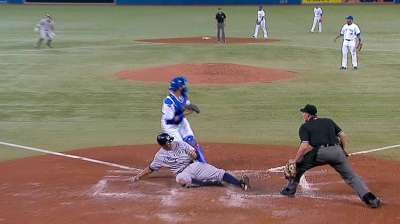 TORONTO -- It took almost five full months, but the Blue Jays can finally say they found a way to take a series from the Yankees.
Toronto entered this three-game set at Rogers Centre having lost all four of its previous series against New York this season. The club's fortunes changed with this week's triumph, which can be taken as a small moral victory, as just 28 games remain on the schedule.
Right-hander Todd Redmond led Wednesday's 7-2 victory over the Yankees with 5 2/3 strong innings, while the Blue Jays' bats broke out of a prolonged slump with one of its strongest games in August.
"Two out of three, baby," Toronto manager John Gibbons loudly stated after the game. "Matter of fact, two out of three from the Red Sox and two out of three from the Yankees our last two home series."
Gibbons then, tongue in cheek, whisked away Toronto's three intervening series losses, but the Blue Jays' record this season against New York has been no laughing matter. Toronto was swept in a pair of four-game series at Yankee Stadium and entered this week's series having lost 10 consecutive games to the Bronx Bombers -- the club's worst mark since a 13-game losing streak from 1995-96.
Toronto's 3-13 record against the Yankees this season is still far from acceptable, but the club did stand up to New York for at least one series. After splitting the opening two games, the Blue Jays responded in the rubber match with a strong night at the plate, rare fundamentally sound defense and a solid outing by Redmond.
The seven runs were the most the Blue Jays had scored since they plated seven on Aug. 7 in Seattle. Edwin Encarnacion led the way with his 34th homer of the season and two RBIs, while rookie Ryan Goins enjoyed his third consecutive multihit game and Brett Lawrie added a key two-run double.
"It gives you a lot of confidence," Redmond said of the run support. "We come out, score four runs right in the first inning -- offense did amazing. We hit the ball well; you have to give them all the praise in the world. Coming out with an early lead, it enables you to go out there and throw strikes, get ahead of hitters."
Redmond was coming off his worst start of the season, having allowed eight runs to the Astros on Friday, but he was far more effective against the Yankees. He also received plenty of help on the defensive side of things with Encarnacion, Lawrie and center fielder Anthony Gose all making diving grabs, while a key relay throw in the fourth changed the outlook of the game.
The Yankees were rallying, having put runners on the corners with one out in the fourth. One run had already come around to score, and there appeared to be plenty more on the way when Mark Reynolds hit a deep fly ball to right-center field.
Moises Sierra attempted to make a leaping catch at the wall but instead saw the ball bounce away from him as one run crossed the plate. A second seemed imminent, but Gose was perfectly positioned to back up, then made a strong relay throw to Goins, who turned and fired a strike to catcher J.P. Arencibia.
Alex Rodriguez was thrown out by a foot, keeping Toronto's lead at five runs and putting Redmond one out from escaping the jam. Ichiro Suzuki followed with a grounder to second, and the Blue Jays were able to relax.
"Goins got out a nice depth, and he was alert," Gibbons said. "Not knowing whether they were going to send him or not, he comes out and anticipates that, and he's got the arm to do it."
It was a welcome sign from a pair of young players in a season that has been plagued by lackluster defense. The play also came on the same day both players were out doing early work on the field, practicing that exact situation.
Goins, in particular, has been thriving in his opportunity at the big league level. Since making his debut last Friday, Goins has hit safely in six consecutive games while posting .455 average. He's also showcased plenty of skills in the field, and despite playing almost his entire Minor League career at shortstop, he has transitioned to second with relative ease.
"It's all good -- I take all the positives, take it all in and just run with it," Goins said. "I work hard on my defense. That's what's going to keep me around, if I do stay around, so I just try to contribute any way I can."
Redmond was charged with both of the Yankees' runs and finished with three hits allowed and seven strikeouts. His effort helped the Blue Jays win for just the third time in their past 11 games, and the club will now enjoy Thursday's off-day before opening a three-game set against the Royals on Friday night at Rogers Centre.
Gregor Chisholm is a reporter for MLB.com. Read his blog, North of the Border, and follow him on Twitter @gregorMLB. This story was not subject to the approval of Major League Baseball or its clubs.