Giants close road sked vs. Yankees, Mets
Giants close road sked vs. Yankees, Mets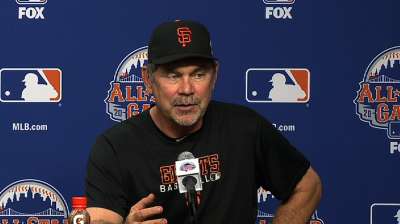 DENVER -- The Giants will finish road play this season with an unusual New York stop. They will play the Mets from Sept. 17-19 and the Yankees from Sept. 20-22.
"A lot of us will be coaching for free with our wives on that trip," Giants manager Bruce Bochy joked.
The Giants will have a week in New York, starting with an off-day on Sept. 16. Before the game on Sept. 22, the Yankees will honor closer Mariano Rivera, who is retiring after the season.
Jack Etkin is a contributor to MLB.com. This story was not subject to the approval of Major League Baseball or its clubs.