Giants staying focused down the stretch
Giants staying focused down the stretch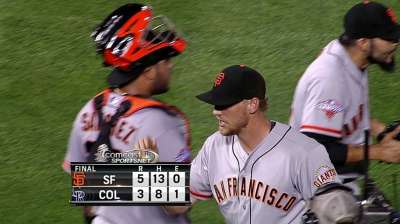 DENVER -- The Giants are in a race, but hardly the sort they anticipated at the outset of the season. Rather than vying to reach the postseason and trying to win riveting games of consequence this September, the Giants will try to finish third in the National League West.
Entering Wednesday night's game, the Rockies were third in the division, 9 1/2 games out of first, with a 62-72 record. The Giants and Padres both checked in at 59-73, 18 1/2 games back and tied for fourth.
"That's not what you set out to do," manager Bruce Bochy, "but considering where you are, it means that we played better ball from this point on. I don't think anybody wants to finish in the cellar.
"It's not something that we've talked about as much as we've got to come out here and give it our best every day, which shouldn't be but can be a little bit of an issue because of what these guys have been through the last three years.
The Giants won the World Series in 2010 and '12 and finished 86-78, two games behind in the Wild Card race, in '11.
Referring to 2011, Bochy said, "We came close, every pitch counted, and you still should play the game that way."
Jack Etkin is a contributor to MLB.com. This story was not subject to the approval of Major League Baseball or its clubs.