Tigers can't slow down red-hot A's in Detroit
Tigers can't slow down red-hot A's in Detroit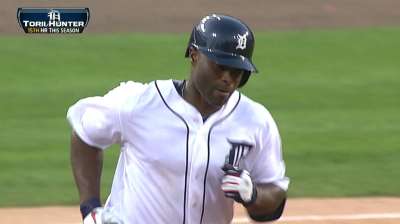 DETROIT -- It was the same story, but a different day. The Athletics were able to knock around a Tigers starter for the third time this series -- this time scoring seven runs on Doug Fister -- on their way to a 14-4 win over Detroit on Wednesday night at Comerica Park.
The 28 runs scored by Oakland in this series are the most allowed by Detroit in any three-game stretch this season. The Tigers' starting pitchers have given up 14 earned runs on 22 hits in 15 innings in the three games.
The bullpen hasn't fared any better against the Athletics this week, allowing 12 earned runs on 18 hits in eight innings. It has raised the bullpen's team ERA from 3.68 at the beginning of this four-game set to 3.89.
"The last couple games have been like nightmares," catcher Alex Avila said. "With the rain yesterday, and then today we just got our butts kicked."
Oakland was able to bash 21 hits on Wednesday, including five doubles and two home runs. It was the second-highest amount of hits the Tigers have given up this season, exceeded only when Detroit allowed 23 hits to the White Sox on July 9.
"You credit them a lot, and to be honest with you, we've made a lot of bad pitches and they've hit some good pitches," manager Jim Leyland said. "They're swinging the bats right now. They're hot. They came in here real aggressive and they've beat up on us for the first three games, to say the least."
The A's used five consecutive singles to begin the second inning -- scoring runs on base hits by Eric Sogard and Kurt Suzuki as well as a sacrifice fly by Josh Donaldson -- to take a 3-0 lead.
Fister entered Wednesday with the fourth-highest groundball/flyball ratio (2.39) in the Major Leagues, but he wasn't able to force A's hitters into a single ground ball, on a hit or out, until his 14th batter into the game.
"Fister today was just a little up, not as sharp with the sinker as he has been pretty much the last few months," Avila said. "It definitely was not one of his best starts and not like him today. It was kind of like a hiccup. Get it over with and move on from there. For a guy that relies on ground balls, he was up in the zone a little bit too much."
Torii Hunter responded in the third inning with a solo blast to left field, his third career homer against Oakland starter Dan Straily. Hunter has eight home runs after the All-Star break, topping his total of seven in the first half.
Hunter singled in the first inning and doubled in the fifth, falling a triple short of the cycle for the second time this year.
"Well, we lost. That's all that matters," Hunter said. "No matter what I did on the field, or what anybody did, we lost. The 'W' is all I care about. We got beat down real bad. It was an ugly game."
It was a 3-1 game until Oakland drilled six more hits against Fister in the fifth inning, including an RBI double by Brandon Moss and RBI singles by Yoenis Cespedes, Alberto Callaspo and Sogard.
"I can't explain what the problems were or what went wrong," Fister said. "I just know I've got to do a better job. I can't go out there and give up seven runs in five innings. I have to give our team a chance to win, and that's not doing it."
Fister allowed a season-high seven runs on 13 hits over five innings. It was his shortest outing since a disastrous start against the Red Sox on June 21, when he gave up six runs in 3 1/3 innings.
The Athletics added three more runs off reliever Jose Alvarez in the sixth to increase their lead to 10-1. Suzuki scored after a leadoff single on a two-out double by Jed Lowrie. Next, Moss hit a two-run home run to right-center. In the eighth inning, Oakland scored four more runs, capped by a three-run homer by Moss.
"We've been struggling for those add-on runs all year, and these last three games, we've been really good about keeping the pedal down and putting together quality at-bats throughout, crooked numbers," A's manager Bob Melvin said. "It can be contagious at times. I don't know how we're doing it against starters we've faced here the last three days, but we'll take it."
The Tigers entered this series coming off a three-game sweep against the Mets, while Oakland had lost four of its past five games.
"When a team is hot, that's what it looks like," Hunter said. "We've had our stints where we were playing pretty well, we were pretty hot, and right now it's just our turn. Right now we're the bug and not the windshield."
Bobby Nightengale is an associate reporter for MLB.com. This story was not subject to the approval of Major League Baseball or its clubs.