Kuroda only adds to slump with latest loss
Kuroda only adds to slump with latest loss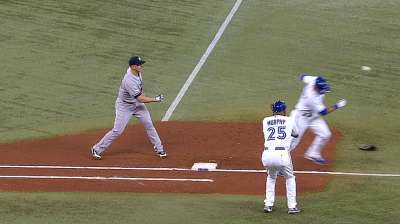 TORONTO -- One of the greatest strengths driving the Yankees' postseason dreams was Hiroki Kuroda's dominance in the starting rotation, but the right-hander has picked a terrible time to dive into a second-half swoon.
Kuroda struggled for a third straight start to fuel concerns about his possible fatigue late in the schedule, coughing up seven runs (five earned) over five innings. The Yankees fell, 7-2, to the Blue Jays on Wednesday at Rogers Centre.
"It feels like, against the hitters, they're getting good timing off me," Kuroda said through an interpreter. "And it feels like that's happening quite a lot."
The Yankees concluded their trip with a pair of series losses, dropping four of six contests to the Rays and Jays. New York was never in the finale, as Kuroda and a costly Chris Stewart error put the Yankees down by four runs after one inning.
With his club already facing a climb to make the playoffs for an 18th time in 19 seasons, manager Joe Girardi knows the latest batch of results is not making the task any simpler. The defeat dropped New York 5 1/2 games behind the Athletics for the second American League Wild Card spot.
"We need to win games, and we need to win series," Girardi said. "We need to have a really good homestand. We've got 29 games left, and we're home for 10 games. We're playing some teams in our division. We need to have a really good homestand."
Kuroda had been dominant in July (3-0, 0.55 ERA), but that's not the case anymore. The 38-year-old permitted nine hits on Wednesday and has allowed 15 earned runs in his last 16 2/3 innings (8.10 ERA), falling to 1-4 this month.
"It could be mechanics," Stewart said. "It could be that it's late in the year, his body could be getting tired, he's not able to physically repeat what he was doing early on in the year. He could be getting more conscious of it now. We can go to the tape, take a look at what he was doing, and hopefully correct it before his next outing."
Brett Lawrie put Toronto on the board early with a two-run double on a hanging slider, and Kuroda got crossed up with Stewart on a strikeout of J.P. Arencibia, resulting in a passed ball. Stewart fired errantly down the first-base line, allowing Lawrie and Rajai Davis to race home.
"I called a slider, but he threw a fastball," Stewart said. "I expected it to break down and away, but it kept straight and hit off my glove. I tried to force the issue after that. I probably should have just eaten the ball and gone on to the next hitter. Unfortunately, I hit [Arencibia] in the back, and two runs come around to score."
Edwin Encarnacion launched a towering two-run homer off Kuroda in the second inning. When Jose Reyes gave Toronto a seven-run lead with a third-inning sac fly, Joba Chamberlain was already getting ready for another round of mopup relief: certainly not what the Yankees needed to see as they continue to play must-win games.
"We've got to win games; that's the bottom line," said Yankees captain Derek Jeter. "We're playing the teams that we're chasing, for the most part. We don't have much room for error. Every game we play is important."
Matched against a lineup that did not include Robinson Cano, a night after he was hit on the left hand by a pitch, journeyman right-hander Todd Redmond held the Yankees to a pair of runs on three hits over 5 2/3 innings in his first career start against New York.
"Our offense did amazing tonight," Redmond said. "You have to give them all the praise in the world. Coming out with an early lead enables you to go out there and throw strikes, get ahead of hitters."
Alex Rodriguez and Mark Reynolds -- the latter starting his first Major League game at second base, with both Cano and Eduardo Nunez (right knee) unavailable -- collected run-scoring hits against Redmond, but their fourth-inning RBIs were too little, too late.
The Yankees also ran themselves into some ill-advised trouble in that inning, down by five runs; sent by third base coach Rob Thomson, Rodriguez was thrown out at home plate on what Girardi called "a bad read."
Reynolds said that he believed the Yankees should have taken two of three games from the Blue Jays, who have been relegated to playing spoiler in the postseason races. But Toronto got hits when the Yankees didn't, and now it is crucial that New York figures out how to shake the trip off and play well at home.
"It was tough, but at the end of the day, the season's not over," Reynolds said. "We've got a lot of games left, and we're going to give it hell to the end."
Bryan Hoch is a reporter for MLB.com. Follow him on Twitter @bryanhoch and read his MLBlog, Bombers Beat. This story was not subject to the approval of Major League Baseball or its clubs.