Bloomquist rejoins starting lineup in DL return
Bloomquist rejoins starting lineup in DL return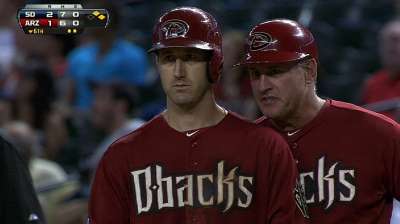 PHOENIX -- Sidelined since June 27 with two broken bones in his left hand, infielder Willie Bloomquist finally got the green light to rejoin the D-backs on Wednesday following a week and a half of Minor League rehab games. Arizona activated the 35-year-old from the 15-day disabled list and optioned David Holmberg to Double-A Mobile.
The D-backs immediately inserted Bloomquist into the lineup at shortstop Wednesday against the Padres, and he responded with three hits and an RBI.
"It's been a long road, but it's good to be back," Bloomquist said. "I feel great, I've been feeling great since the day they let me swing the bat again. I think we let it heal up the right amount of time and got the proper rehab on it, so my hand feels great. I haven't had any soreness, it's been feeling outstanding."
The 2013 season has been frustrating one, to say the least, for Bloomquist. After missing the first two months of the year with an oblique strain, he returned to action in June only to suffer the broken hand -- a freak injury on a hit-by-pitch -- just four weeks later.
"You get challenges put in front of you all the time in this game, and injuries are definitely one of them," he said. "This year I've had a couple that have been tough to deal with, but you just focus on getting better and do what you can to recover as fast as you can. Just the fact that I have burning desire to play, it's been tough to swallow, but on the other hand, you have to understand that those are the cards you're dealt. I'm back now and hopefully I can help this team win some games."
With the D-backs battling to stay in the playoff picture, the club thinks adding a player like Bloomquist heading into September will go a long way. Although it has been in limited action, just 23 games this season, Bloomquist is hitting .316 and gotten on base at a .361 clip.
"We know what he's capable of doing, the way he plays the game," D-backs manager Kirk Gibson said. "He's a veteran player and at times like this, it's going to help you to have those guys available."
As for Holmberg, who made his Major League debut Tuesday in a spot start, he'll return to Mobile with a validated sense of self-assurance that he can compete at the highest level. The left-hander, ranked by MLB.com as the club's No. 5 prospect, allowed three runs on six hits over 3 2/3 innings but limited the damage when he got in trouble.
"I feel like I learned a little bit about my stuff, just being confident with it and knowing it really works," Holmberg said. "It's a little different coming from the Minor Leagues, there's an adjustment period with how good the batters are. There were a few pitches I felt I could've made better, so for next time, I'll work on it."
Although Gibson was noncommittal when asked whether or not Holmberg will be a September callup, the manager said he came away impressed with the rookie's debut.
"We'll evaluate all the guys, but he kept his composure very well considering what went on," Gibson said. "Even though they got three runs off him, he kept pitching. It was a tough zone for both pitchers last night but he dealt with it. I think he learned a lot. He's grateful, and we liked what we saw. He'll be better the next time he comes back, he has an understanding of what he has to do."
Tyler Emerick is an associate reporter for MLB.com. This story was not subject to the approval of Major League Baseball or its clubs.