Neshek clears waivers, outrighted to Triple-A Sacramento
Neshek clears waivers, outrighted to Triple-A Sacramento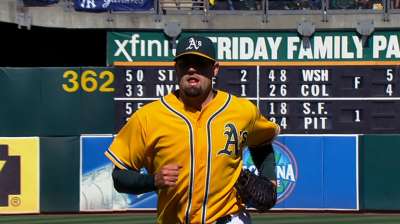 DETROIT -- A's reliever Pat Neshek has cleared waivers and was outrighted to Triple-A Sacramento on Wednesday, the club announced.
The veteran righty, who was designated for assignment on Monday, had a 3.58 ERA and 1.38 WHIP in 37 2/3 innings for the A's this year, his last outing a 44-pitch performance against the Orioles on Sunday.
"This late in the season, we certainly didn't want to lose him," said manager Bob Melvin. "We would've liked to try to keep him, but we needed some length at the time. I don't doubt that he will be a guy we will see in September.
"I think that was the hope all along."
Jane Lee is a reporter for MLB.com. This story was not subject to the approval of Major League Baseball or its clubs.