Aramis evaluated next to Hall of Fame third basemen
Aramis evaluated next to Hall of Fame third basemen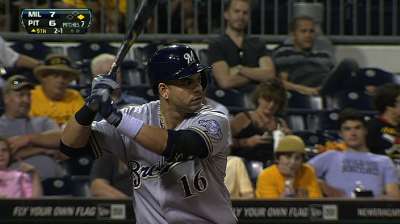 PITTSBURGH -- Aramis Ramirez is one of the great offensive third basemen in baseball history, but is he hitting his way toward the National Baseball Hall of Fame in Cooperstown, N.Y.? An unscientific poll of several Hall of Fame voters on Wednesday suggested the 35-year-old Ramirez will fall short.
Ramirez topped 2,000 career hits in June, and he reached 350 home runs in Tuesday's win over the Pirates. His 347 homers as a third baseman ranks seventh all-time behind Hall of Famers Mike Schmidt (509) and Eddie Mathews (486), plus Chipper Jones (389), Graig Nettles (368), Matt Williams (359) and Adrian Beltre (356 entering Wednesday). He has posted similar offensive numbers to the most recent third baseman to make the Hall of Fame, former Cub Ron Santo -- a .285 batting average entering Wednesday to Santo's .277, and 350 home runs with 1,262 RBIs to Santo's 342 and 1,331.
But MLB.com stats guru Roger Schlueter suggested that one of Ramirez's suits -- his consistency -- will work against him in a Hall of Fame discussion. In other words, Ramirez's career has had no clear peak, and his yearly contributions are impressive, but short of consideration for Cooperstown.
Defensively, Ramirez is generally regarded as average, and voters have traditionally had a difficult time with third basemen, anyway. The hot corner is Cooperstown's most underrepresented position.
Ramirez, who has been limited by a nagging knee injury all season, is signed with the Brewers through 2014 and said he intends to play as long as his body allows him to be a regular starter. He declined to assess his case for someday making it to Cooperstown.
"I always say I'll look back on my numbers when I retire," Ramirez said. "I'll have to look at third basemen who are in the Hall of Fame, what kind of numbers they have, because I have no idea.
"[I'll play] as long as I can. Injuries play a big part as you get older; they take a big toll on you. The fewest at-bats I've gotten in the big leagues [in a full season was 306] in 2009. This year, I might not reach that. When you get older, it gets tougher, and I'm going to keep working hard to come back stronger next year."
Adam McCalvy is a reporter for MLB.com. Read his blog, Brew Beat, and follow him on Twitter at @AdamMcCalvy. This story was not subject to the approval of Major League Baseball or its clubs.