Sale breezes through Astros with 12 strikeouts
Sale breezes through Astros with 12 strikeouts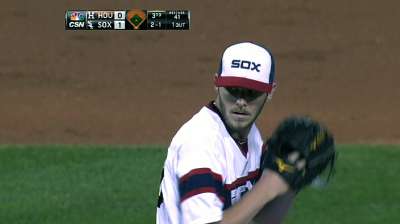 CHICAGO -- The word "embarrassed" was dropped by Chris Sale after the southpaw got knocked around by the Rangers last Friday to start a six-game White Sox homestand, which concluded Wednesday night at U.S. Cellular Field.
To be honest, embarrassed was the kindest word from Sale to describe that performance. And he was more upset with a brief dugout meltdown out of frustration than the eight runs scored by Texas over seven innings.
But Wednesday's 6-1 victory for the White Sox over the Astros quickly turned into a different story for the staff ace. It was part of an ongoing two-year story that portrays Sale as one of the game's top starting pitchers.
Sale finished with 12 strikeouts over eight-plus innings, setting his own single-season high with a total of 193. He also produced a single-season franchise record by fanning 12 or more for the fourth time, breaking a previous tie at three with Javier Vazquez (2006) and Ed Walsh (1910).
Two of those 2013 high-strikeout games have come against the Astros (44-88), with Sale posting 26 strikeouts over two starts covering 16 innings this season. In this trip to the mound, Sale did a great job of mixing up his fastball, slider and changeup early, sitting at seven strikeouts after three innings and 10 after five.
"I felt strong. I felt good warming up and my body felt good," said Sale, who finished off six strikeouts with his fastball and three each with his slider and change. "I just wanted to be able to use that in the game when I got out there."
"He was vintage Chris Sale," said Houston manager Bo Porter of Sale, who walked two and yielded just four hits. "He's a strikeout guy, a power arm and was pretty much lights out. We hit the balls hard, but they were able to make plays. Other than that, he was pretty dominant."
When Sale faced the Astros in Houston on June 14, he struck out 14, but still came up on the losing end of a 2-1 final. Both of the runs scored off of him were unearned.
History looked as if it might repeat itself in Chicago, as Chris Carter's mammoth two-out homer in the seventh tied the game at 1. It didn't take long for the White Sox (56-76) to answer against one-time farmhand Lucas Harrell (6-15).
Leury Garcia walked to start the seventh against Harrell, swiped second and moved to third on Cody Clark's throwing error. He scored on Jeff Keppinger's sacrifice fly to center, with Garcia reaching his left hand around Clark to touch the plate as part of a perfect slide to beat a strong throw from Brandon Barnes.
Harrell walked Adam Dunn and Paul Konerko before Avisail Garcia connected on a 415-foot home run to center on a 2-2 pitch to put the White Sox in control. Garcia's first homer as a member of the White Sox was the team's only hit during a four-run seventh.
"Yeah, I waited for that one. I just tried to look for that pitch inside and I got it and hit it good," Avisail Garcia said. "I feel more comfortable here and I got playing time. I feel good right here."
"It's nice that he got [the home run], but again, he's young and you're just letting him play," said White Sox manager Robin Ventura of the Avisail portion of the Garcia tandem. "But the strength and speed that he has is unusual for a lot of Major Leaguers. So, it's nice to see his first home run with us and it came at the right time."
Garcia's blast helped the White Sox forget about a bases-loaded, nobody-out situation in the first against Houston starter Jarred Cosart that scored just one run. The late uprising gave the White Sox a fifth straight series win, improved the South Siders to 16-7 in their last 23 games and a Major League-best 10-2 since Aug. 16.
There's no doubt Sale was the dominant force in this victory. Like a good leader, Sale deflected the praise to his teammates.
"Honestly, the Garcia boys stole the show tonight," said Sale, with Avisail knocking out three hits and driving in three, and Leury walking twice, scoring two runs and driving in one. "What an unbelievable job they did. A big homer and I think both of them were involved in every run scored, so hats off to them and they won it for us."
After Sale improved to 10-12 and won for the fourth time in five decisions, he used the word "embarrassed" again. But this reference was about using that disappointing Friday performance as motivation to come back Wednesday and help his team win.
Finishing the season strong serves as another form of motivation for Sale, who had a 3.77 ERA in July last year, a 3.55 ERA in August and a 4.11 ERA over six starts in September and October as the White Sox division lead faded away. There's no playoff pursuit in 2013, but Sale feels much more comfortable and confident as a member of the rotation.
"This year, he just has a better idea of how to go about it and kind of lengthen out to where he's as strong now as he's been all year," Ventura said.
"My arm feels loose, my body feels good," Sale said. "Something [White Sox pitching coach Don Cooper] and I have talked about is last year I kind of limped across the finish line. This one, he's like, 'Let's sprint across at the end of the year.' It's something I'm working toward and trying to do."
Scott Merkin is a reporter for MLB.com. Read his blog, Merk's Works, and follow him on Twitter @scottmerkin. This story was not subject to the approval of Major League Baseball or its clubs.