Salty homering less, but impacting more games
Salty homering less, but impacting more games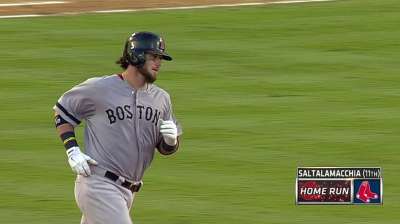 BOSTON -- Jarrod Saltalamacchia hit 25 home runs in 405 at-bats last year, ranking him the 12th most dangerous hitter in the Majors according to home runs per at-bat among those with at least 400 at-bats.
Every 16.2 at-bats in 2012, Saltalamacchia homered. With going deep just 11 times entering Wednesday's game vs. the Orioles, he's homered once every 32.9 at-bats this season.
But in just about every other measurable and non-measurable part of his game, Saltalamacchia has improved greatly in 2013.
To manager John Farrell, it's a no-brainer which season of production he'd prefer from the burly catcher.
"You look at it as a willingness to hit the pitch where it's located rather than going in, looking to sell out and drive a pitch no matter where it is on the plate," Farrell said. "The home-run totals might be down a little bit, but it's a more dangerous and more complete hitter with the numbers he's putting up right now."
Saltalamacchia is still striking out about 30 percent of the time, but he's swinging at less pitches out of the strike zone and less pitches in general. And the hacks he's been taking have been much more productive, going with the pitch instead of chasing.
The switch-hitting backstop has doubled his double output from 2012 (17) in 362 at-bats this season, giving him the team lead with 34. Also, Saltalamacchia's .797 OPS is the highest of his career.
With backup Davis Ross missing 65 games this season due to two concussions, Saltalamacchia has kept himself healthy and productive with the increased workload.
"I guess he's eating right," Farrell joked. "He takes care of his body. He's got a very good workout routine. Prior to catching this number of games, he's always asked for more. He's clearly not only getting it, but he's getting better with more play and more consistent reps behind the plate."
Saltalamacchia, who played his 104th game this season Tuesday, is making $4.5 million this season, his last before he hits free agency, which could make him a valuable commodity. According to wins above replacement, Saltalamacchia, with 2.6, is the most valuable catcher ready to hit the market this offseason by a full 1.0 WAR. A.J. Pierzynski, John Buck, Carlos Ruiz and Dioner Navarro are also eligible for free agency.
What Saltalamacchia has done offensively is still in the shadows of his work behind the plate, in which he's helped nurture a starting rotation that ranks 10th in the Majors with a 3.81 ERA, despite being without Clay Buchholz since June 8.
On Saltalamacchia's relationship with the staff, Farrell said, "You can never underestimate it."
Jason Mastrodonato is a reporter for MLB.com. Follow him on Twitter @jmastrodonato. This story was not subject to the approval of Major League Baseball or its clubs.