Three-run fifth does in Dice-K against Phils
Three-run fifth does in Dice-K against Phils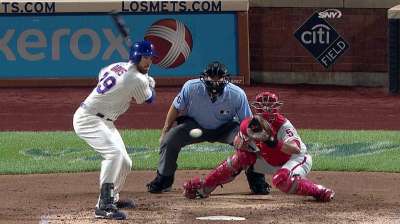 NEW YORK -- When the Mets signed Daisuke Matsuzaka, they were hopeful, but not certain, of what he could provide. He hadn't pitched on a Major League mound since October, and the success he achieved with the Red Sox was well in the past.
Through two starts, Matsuzaka hasn't fulfilled the Mets' aspirations.
One night after Jon Niese quickly and efficiently stifled the Phillies in a complete-game shutout, Matsuzaka struggled through 4 1/3 deliberate innings in a 6-2 loss to Philadelphia on Wednesday at Citi Field. The right-hander has now allowed nine runs in his first two outings with New York.
Matsuzaka labored through the outing, throwing 110 pitches. He didn't have his command and the Phillies took advantage.
"Today's game was pretty self-explanatory, I think. I was all over the place today, all over the zone," Matsuzaka said. "I wasn't able to throw the ball where [Travis] d'Arnaud wanted me to throw it."
The Mets, who are now 3-8 in their last 11 games, scored their first run in bottom of the third inning on an RBI single by Ike Davis. But they wouldn't hold the lead for long.
In the top of the fourth, Matsuzaka gave up a leadoff single to Pete Orr. Three batters later, Jimmy Rollins drove him home with a double to left field to tie the game at 1-1. Rollins tried to stretch it into a triple, but Justin Turner's relay throw from Eric Young beat Rollins to third base.
Philadelphia took the lead in the fifth.
Matsuzaka allowed a one-out single to Carlos Ruiz, then a ground-rule double to Michael Young that put runners at second and third. Cody Asche walked to load the bases, then Matsuzaka hit John Mayberry to force in a run and give the Phillies a 2-1 lead.
Terry Collins went to the bullpen and brought in Robert Carson, with Matsuzaka departing after a taxing night.
Carson struck out pinch-hitter Darin Ruf, but then allowed a two-run single to Cole Hamels that put Philadelphia up 4-1. That completed Matsuzaka's line, as he allowed four runs on six hits. He walked four batters, and struck out five.
"I will tell you his stuff's good enough. It plays," Collins said. "Tonight the command was off and therefore he was off. When he commands it, he's going to get outs because it's good enough."
Carlos Ruiz hit a solo home run off Carson with two outs in the sixth to give the Phillies a 5-1 lead.
The Mets cut Phillies' lead to 5-2 when Andrew Brown hit an RBI double in the seventh. But they couldn't put together enough offense against Hamels and Philadelphia's bullpen to overcome the deficit. Philadelphia tacked on another run in the ninth inning to make it 6-2.
While Matsuzaka was still in the game, Hamels had to wait during some innings to get back on the mound because of the Mets starter's slow pace.
"It's tough. It doesn't happen all the time," Hamels said. "It's nice to get in a good rhythm. In games like this, you have to make sure your warm-up pitches are right on par. It's a lot of self motivating and trying to stay in the game as much as possible. It's easier said than done."
Hamels allowed nine hits, walked one and struck out eight in his seven innings of work. The Mets had plenty of opportunities, but couldn't capitalize. New York was only 2-for-11 with runners in scoring position.
Matsuzaka's previous start came Friday against the Tigers, just one day after he signed with the Mets. Detroit jumped on him early, scoring five runs in the first two innings. After that rough outing -- which he said was due to some initial nerves -- Matsuzaka settled down and in one stretch, retired 12 consecutive batters.
That prompted some optimism that perhaps once Matsuzaka settled back into the Major Leagues, he could give the Mets some strong performances. On Wednesday, though, Matsuzaka never settled into a groove.
Before joining New York, he spent this season pitching for Cleveland's Triple-A affiliate, the Columbus Clippers. In his nine starts since July 7, he pitched at least seven innings seven times, and allowed only one earned run in five of his last eight starts.
In his return to the Majors, that success hasn't returned with him just yet.
"I don't think it has anything to do with whether it's Triple-A or the big leagues," Matsuzaka said. "I believe that as long as I have my command, I'll be able to get batters in Triple-A or in the big leagues out."
Chris Iseman is an associate reporter for MLB.com. This story was not subject to the approval of Major League Baseball or its clubs.