Wedge wants Mariners to play faster
Wedge wants Mariners to play faster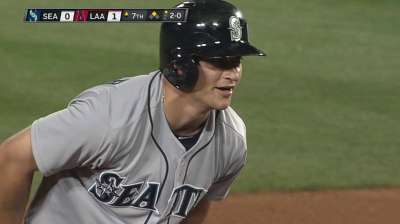 SEATTLE -- The Mariners aren't exactly feared on the basepaths, and manager Eric Wedge wants that to change. Entering Wednesday's game against Texas, Seattle ranks 28th in stolen bases with 38.
But with a core of young, athletic players and a ballpark that punishes power hitters, small ball may be in the Mariners' future.
"I want to do that, I do," Wedge said. "I want to have that be an option to where you can steal more, you can hit-and-run more, you can use the bunt game a little bit more, whether it be for a hit or a safety squeeze, regular squeeze. I think we're going to have some guys that can do some of those things if we can stay healthy."
Seattle's future lies with its talented rookies, as shortstop Brad Miller, second baseman Nick Franklin and injured catcher Mike Zunino have all shown to be capable everyday players in the Major Leagues. Franklin leads that trio with five steals. Still, the manager alluded that more roster turnover may be necessary before he has the speedy club he's hoping for.
"You look at Franklin, you look at Miller, even [Kyle] Seager to a point, but [Dustin] Ackley and [Michael] Saunders, those are good things," Wedge said. "And you've got to get rid of some of these cloggers. You don't mind having one or two, but you can't have three or four."
Jacob Thorpe is an associate reporter for MLB.com. This story was not subject to the approval of Major League Baseball or its clubs.