Bullpen can't make early lead stand vs. Red Sox
Bullpen can't make early lead stand vs. Red Sox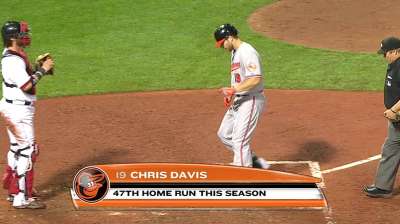 BOSTON -- It's just one jetty in a sea of statistics, a rocky relief number that has conspired to tear asunder the Orioles bid for contention. Baltimore had the best late-game relievers in baseball last season, but for whatever reason, this year's relief corps appears to have lost its grip on one-run decisions.
Baltimore went 29-9 in games decided by one run last season, but it's 14-24 in those circumstances this year. The Orioles have now dropped eight straight one-run games, and they watched the Red Sox score three unanswered runs to steal a 4-3 win on Wednesday night.
There were no glaring mistakes in this one, no tape-measure home runs or late-game errors to accentuate the trend. There was just a late-game rally by Boston that depended on subtle placement -- once on a ground ball and once on a sinking flair to left field -- that made the difference.
Dustin Pedroia came through with the first big hit for Boston, a two-run grounder in the seventh inning that went past two diving infielders to tie the game. One inning later, pinch-hitter Mike Carp reached Tommy Hunter for a two-out hit that looped just beyond Manny Machado's outstretched glove.
"It was just a bad beat," said Hunter. "You got a squibbler that goes through the six-hole there and then that happened at the end of the game. I mean, it's just tough. ... A good hand got beat by a better hand. There's nothing really you can say about it. You're not going to throw any other pitch."
Hunter, who was tagged with his first loss since an Adam Dunn walk-off homer on July 4, had reason to be comfortable with his outing. The right-hander came into a tie game and struck out the first two batters he faced, but he then let Jarrod Saltalamacchia rip a double off the Green Monster.
The Orioles elected to intentionally walk Stephen Drew, bringing Carp to the plate. Hunter got Carp to line the ball weakly to left field, and Machado appeared to have a shot at it. But the third baseman leapt and couldn't quite reach the ball, allowing Saltalamacchia to come home with the go-ahead run.
That hit gave the Red Sox (79-55) their first lead of the game, and it also allowed Boston to beat Baltimore (70-61) at Fenway Park for the first time in six series. The Orioles fell to 28-16 when Chris Davis homers, but manager Buck Showalter said they never take anything for granted.
"I don't think we ever had it. It's not necessarily one that got away," he said. "They just dumped one in over there and a ground ball that went in the hole. ... They hit some line drives at people, too, so we were fortunate there. We had a lot of good things. We just needed a couple more runs."
The Orioles, who have more home runs (177) than any team in the Major Leagues, appeared to have all the offense they would need in the early innings. Davis came through with an RBI double in the first inning, and Machado lengthened the lead to 2-0 with a solo homer in the top of the third.
Davis gave the Orioles a 3-1 edge with a solo homer -- his 47th of the year -- in the sixth inning. That shot broke a tie with Jim Gentile for the third-most home runs in franchise history, and now Davis trails just the peak seasons of Brady Anderson (50 in 1996) and Frank Robinson (49 in 1966).
Bud Norris pitched into the sixth inning for the Orioles, but the game turned against Darren O'Day in the seventh. O'Day came in with two runners on base and got a lineout to second, but then Pedroia singled past the diving Machado and J.J. Hardy to tie the game.
Carp's single in the next inning eluded Machado's glove by the same narrow margin.
"Sometimes it's all about placement. It's a funny game," said Carp. "I just got enough of it to dunk it over Machado's head. That's what we play for -- to try to drive in the game-winning run."
Hunter, prior to Wednesday night's loss, had notched a 1.98 ERA in August and had held opposing hitters to a .188 batting average in his last 12 appearances. Hunter is 3-3 for the season and all three losses have come on the road, but he doesn't have an answer for the team's late-game adversity.
"I've got a couple of those losses on those one-run games. I'll take a big part of the blame on that, but it is what it is," said Hunter of the one-run trend. "I'd rather be lucky than good, but I think we're pretty good, too. That's baseball. Sometimes you get the bear and sometimes the bear gets you."
Despite the loss, the Orioles are still 6-6 against the American League East-leading Red Sox this season, and Baltimore trails by 4 1/2 games in the hunt for the second AL Wild Card. The O's have dropped both games in this series, but prior to that, they had won five straight series at Fenway Park.
What does that mean? Is it just luck evening out in another department? The Orioles don't look at things that way, and they know that every game and every series should be taken by them.
"We don't dwell on what happened then and that means this and this means you win X-number of games," said Showalter of the team's streak. "I know that's fodder for conversation and whatever, but we just don't. ... Tomorrow's another day, a chance to feel good about us going forward. We came close tonight, and it's frustrating for our guys, because I thought they deserved to win that game."
Spencer Fordin is a reporter for MLB.com. This story was not subject to the approval of Major League Baseball or its clubs.