Despite big numbers, Beltre knows MVP is out of reach
Despite big numbers, Beltre knows MVP is out of reach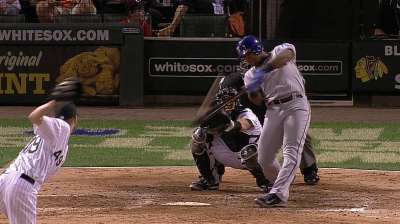 SEATTLE -- Rangers third baseman Adrian Beltre finished third in the American League Most Valuable Player Award voting in 2012. It appears a bronze medal in that race is the best Beltre can hope for again this season, and he is fine with that.
Beltre sees Tigers third baseman Miguel Cabrera as the favorite, but said Chris Davis is right there with him. Cabrera won the AL MVP Award last year after winning the first Triple Crown since 1967.
"What Cabrera has done is amazing," Beltre said. "It's a two-player race for the MVP. It depends on what happens in the last five or six weeks. What Cabrera has done is unbelievable, but Davis is having a great season, too."
Beltre will likely settle for a second straight Rangers Player of the Year Award. He has carried the Rangers for most of the summer and went into Wednesday's game against the Mariners hitting .373 with 13 home runs and 40 RBIs in his last 55 games. He has a .447 on-base percentage and a .608 slugging percentage in that stretch.
Entering Wednesday's game in Seattle, Beltre was in the top 10 in the AL with a .326 batting average (third), 78 runs (10th), 27 home runs (tied for eighth), 79 RBIs (tied for ninth), a .383 on-base percentage (eighth) and a .537 slugging percentage (fifth).
He burnished those numbers in a 12-4 win over the Mariners, going 3-for-5 with a two-run homer to extend his hitting streak to eight games.
"I can do better," Beltre said. "I'm not saying I'm doing badly. I'm doing OK. But I could have done better. There are a lot of situations this season where I haven't done my job. But for the most part, I've done an OK job."
T.R. Sullivan is a reporter for MLB.com. Read his blog, Postcards from Elysian Fields, and follow him on Twitter @Sullivan_Ranger. This story was not subject to the approval of Major League Baseball or its clubs.