Jackson unable to keep lid on Dodgers in loss
Jackson unable to keep lid on Dodgers in loss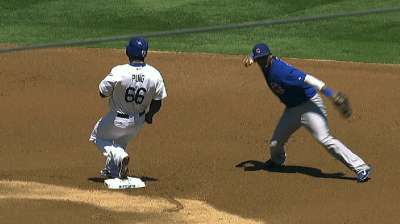 LOS ANGELES -- Ricky Nolasco was the only starting pitcher the Cubs will face in a five-game stretch who hasn't won a Cy Young Award, yet he looked as if he had the trophy on his mantel Wednesday.
Nolasco struck out 11 and held the Cubs to three hits over eight innings in the Dodgers' 4-0 win at Dodger Stadium. Hanley Ramirez and Andre Ethier each hit solo home runs off Edwin Jackson, who also made a costly throwing error as Los Angeles improved to 21-6 in August, tying the team record for most wins in a calendar month.
August wasn't kind to Jackson, who finished the month 0-3 in five starts, giving up 19 earned runs on 38 hits over 28 2/3 innings for a 5.96 ERA.
"He actually threw the ball pretty well," Cubs manager Dale Sveum said of Jackson. "His velocity was good, and there was not a lot of hard contact besides the two homers, and then the error cost two more runs in that ballgame. He makes that play, and it's a different ballgame."
Ramirez connected on his 15th home run in the Dodgers' first, hitting what Jackson called a "mistake changeup," and Ethier made it 2-0 with his 10th home run with one out in the fourth.
In the fifth, Juan Uribe and Tim Federowicz both singled. Nolasco then bunted, and Jackson fielded the ball but bounced his throw past third baseman Cody Ransom for an error. Uribe scored on the play, and Federowicz tallied on Skip Schumaker's single.
"They're hot right now," Jackson said of the Dodgers, now 31-8 since the All-Star break. "They've been playing well, it's no secret. They have the team chemistry. Everybody's playing well, and they continue to go out and play hard in ballgames and continue to win. It's a tough lineup. It's one of those teams where you have to come out and you definitely have to limit the amount of mistakes you make against them."
Any explanation for August?
"I feel the difference has been I've been beat on a couple offspeed pitches up in the zone," Jackson said. "The biggest thing is my offspeed pitches. I haven't been beat by too many fastballs. It's mostly been offspeed up in the zone."
Speaking of offspeed, that's what Nolasco was throwing, and doing so effectively. The right-hander won his fifth straight decision, and finished August 5-0 with a 1.64 ERA.
"He was real tough," Chicago's Brian Bogusevic said. "He's really similar to the way [Zack] Greinke pitched the other night, just constant mixing of four pitches, and never patterned into certain pitches or certain counts in situations. You could never look for anything in particular -- you had to battle from the first pitch.
"He's pitching as well as anybody right now -- there's no days off, no comfortable at-bats," Bogusevic said.
It's the third time the Dodgers shut out the Cubs this year. Chicago's only threat came with two outs in the second, when Junior Lake reached on an error by Ramirez and advanced to third on Welington Castillo's double. But Nolasco, who was the Cubs' fourth-round pick in 2001, struck out Ransom to end the inning.
"We just didn't make the adjustment on the breaking ball," Sveum said. "He threw breaking ball after breaking ball, and we didn't make adjustments at all."
Despite the loss, the Cubs completed their 15,000-plus miles of travel back and forth to the West Coast with a 12-12 record against West division teams in the American and National Leagues. Last season, they went 1-18 on the road against the NL West, but they were 8-8 this season.
Sveum only saw half an inning of play before he was ejected in the Dodgers' first for arguing a checked-swing call that he felt wasn't made during leadoff batter Yasiel Puig's at-bat. It was Sveum's sixth ejection this season, and it's the earliest he's been tossed in a game.
"Obviously, you don't want to get thrown out for something like that in the first inning," Sveum said. "We said our peace and [first-base umpire Lance Barksdale] had his head in our dugout for 30 seconds, and I don't think that's right. We said our peace, we didn't like it, and we were done. He kept his head in our dugout waiting for somebody to say something else. Unfortunately, I did."
Puig eventually walked, but was forced at second when Carl Crawford grounded into a double play.
While Jackson was warming up in the first, the Dodger Stadium scoreboard had a video tribute to Dr. Martin Luther King to commemorate the 50th anniversary of his "I Have a Dream" speech. Jackson heard it.
"That's a special guy right there," he said of King. "He stuck his neck out and enabled a lot of people to have the freedom that we have today. That's huge. There aren't too many people nowadays who have the courage to do that."
Carrie Muskat is a reporter for MLB.com. She writes a blog, Muskat Ramblings, and you can follow her on Twitter @CarrieMuskat. This story was not subject to the approval of Major League Baseball or its clubs.